WP Rentals – Booking Accommodation WordPress Theme
0.0/5 (0 Feedback)

0 in Queue
Description
WP Rentals is a unique WordPress booking theme which saves you time and money when creating your rentals platform. Either you use the theme as a single owner, or you allow users to register and publish listings (single properties or single objects) for daily or hourly rent, Rentals has you covered.
With over 150 theme options and 20 price options, and 13 pre-built demos, this theme offers all you need to create a successful rental business and earn money from it. Synchronise your availability calendar easily with other platforms such as Airbnb, HomeAway, etc.
Our theme is up to date with SCA Regulations for Europe Stripe Payments. We also allow customers to enable WooCommerce and their merchants to process payments for bookings through WooCommerce. Instant Booking deposits paid through WooCommerce DO NOT require user Login.
WpRentals can be translated to any language and can be used as a multi-language website with 3rd party Plugins such as Weglot or WPML.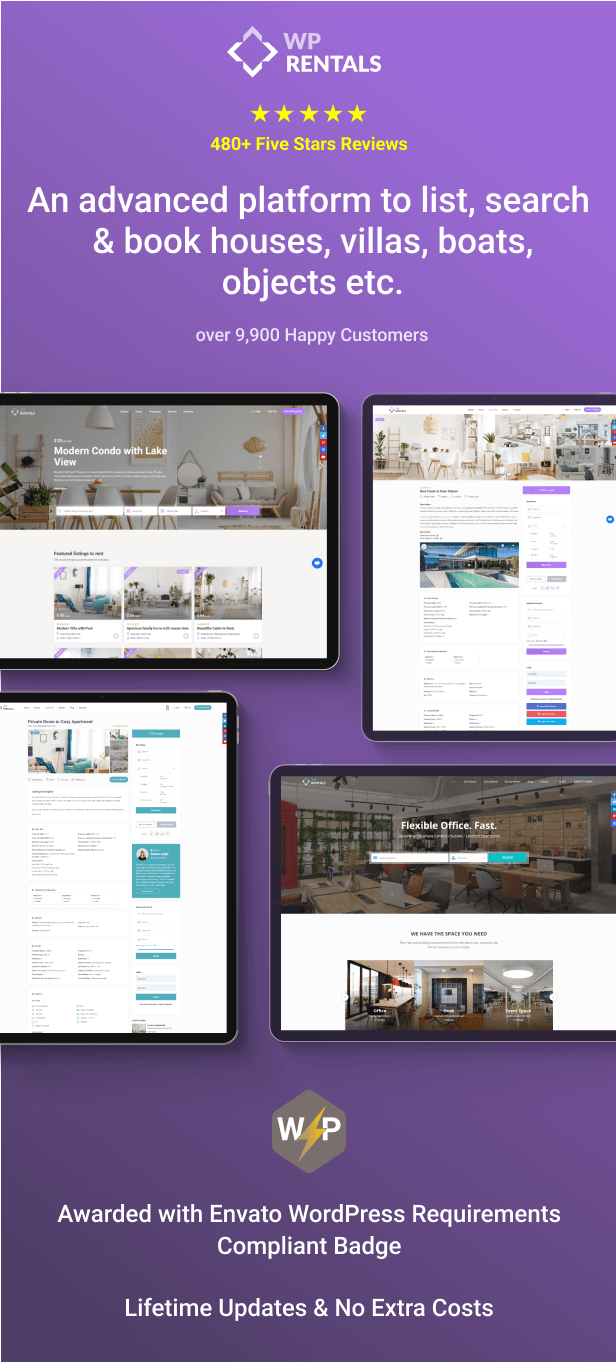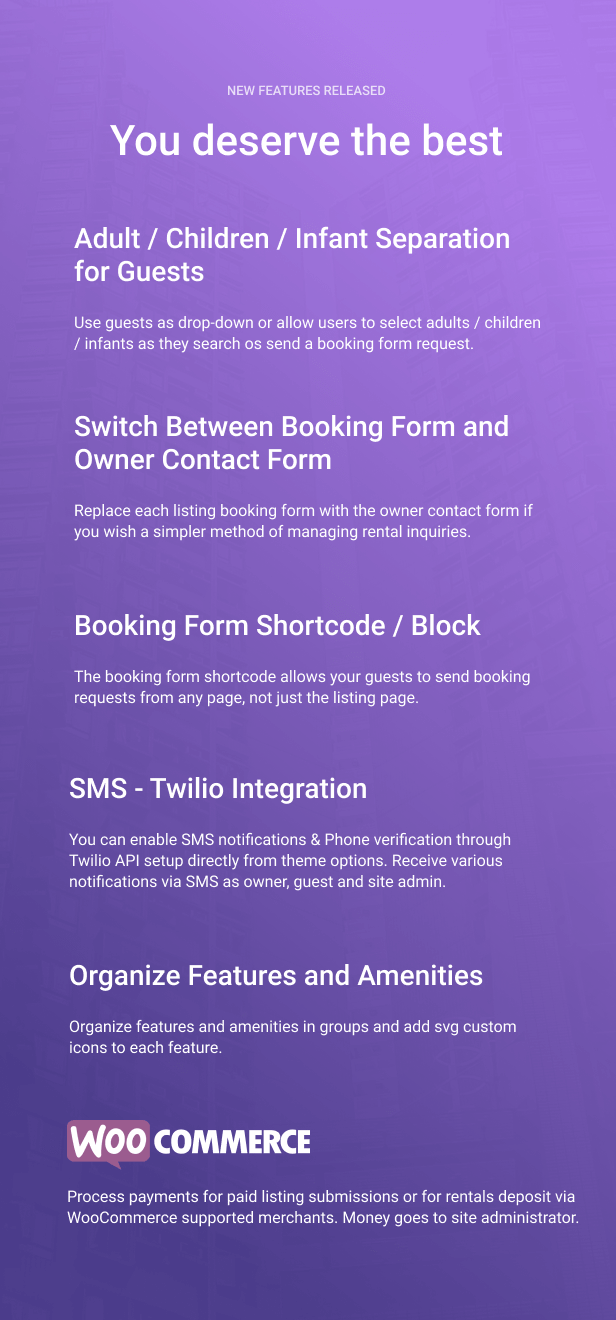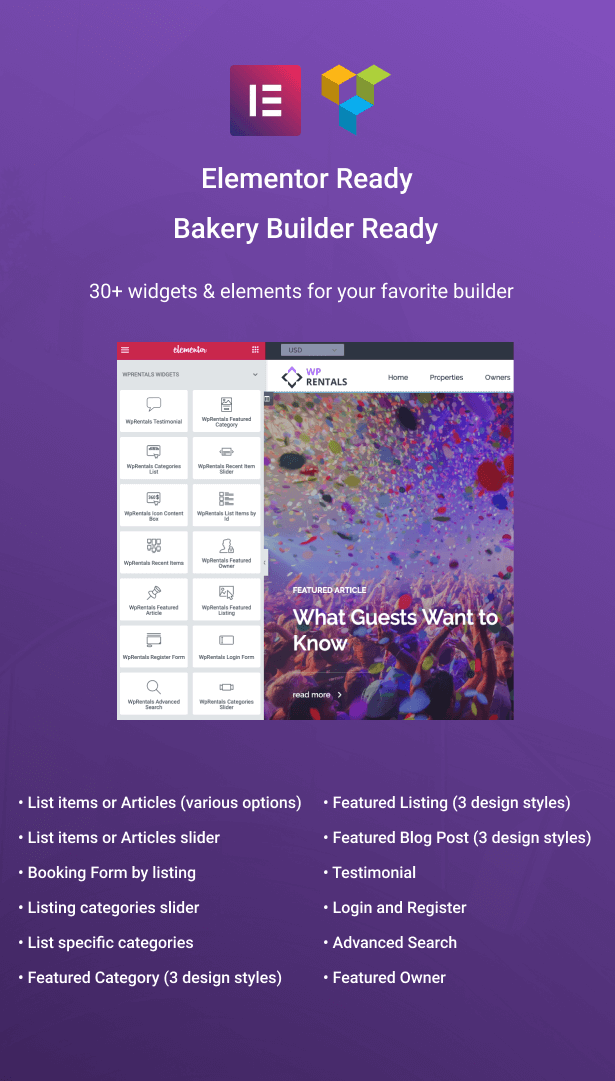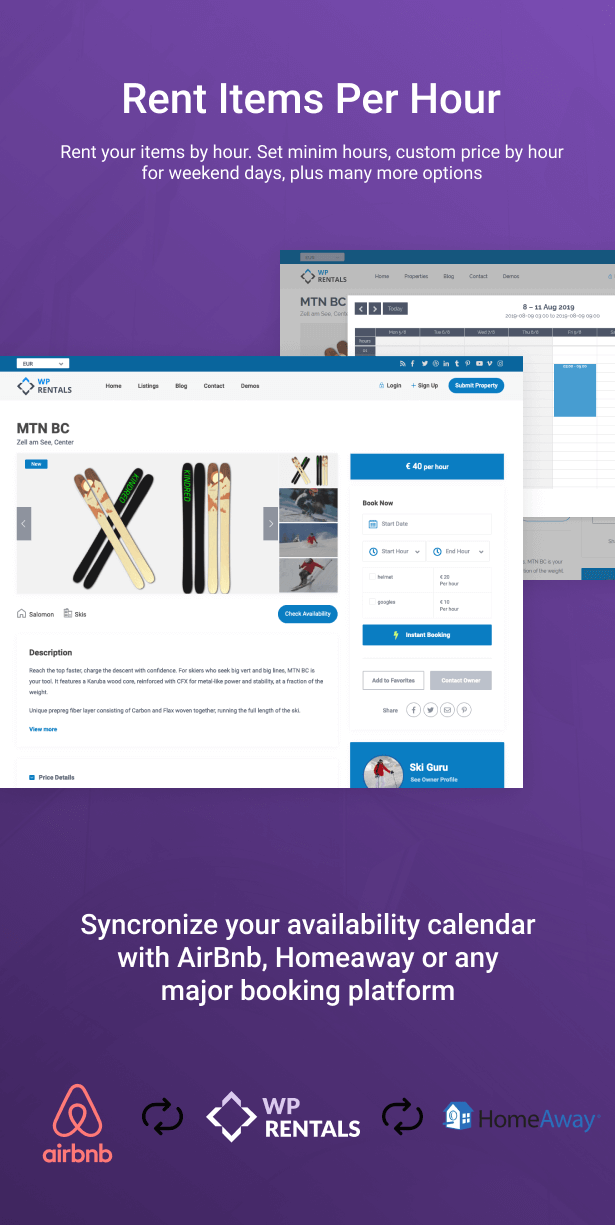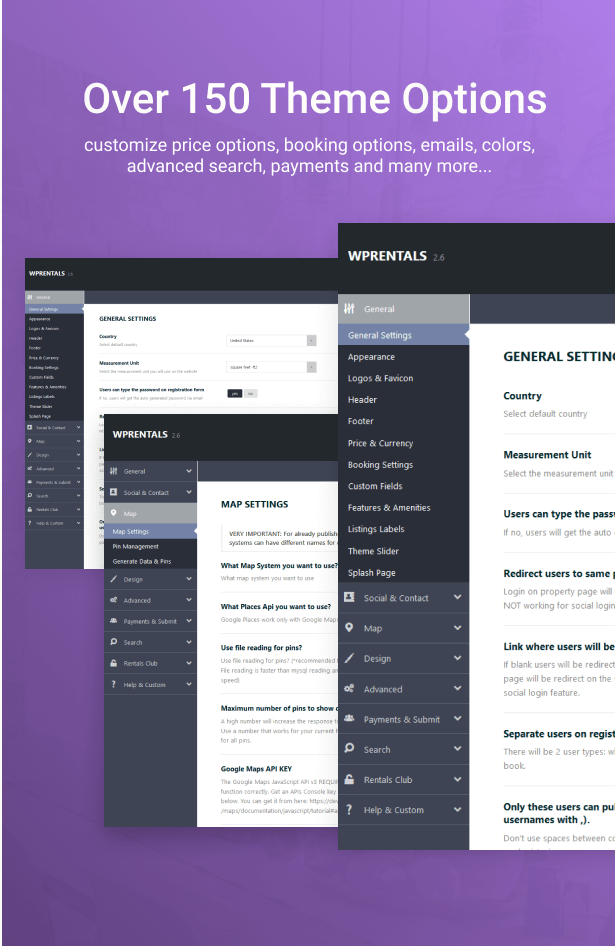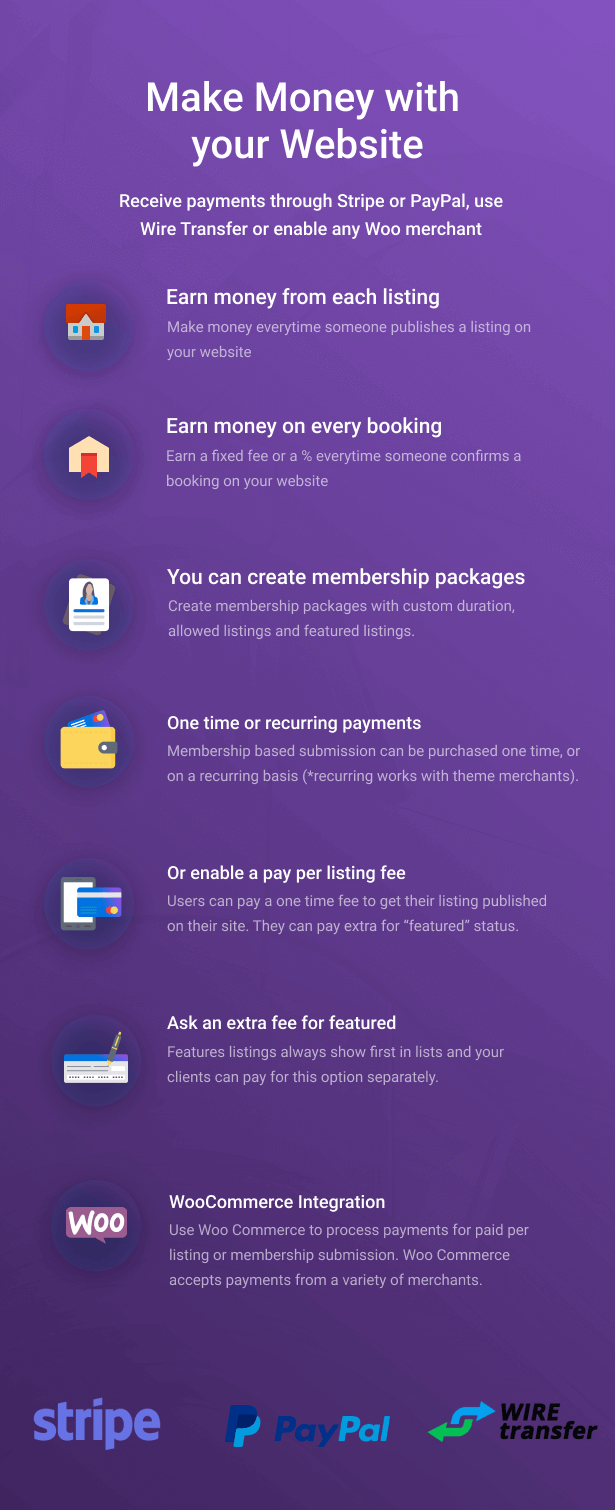 Translations Included:
Spanish, German, French, Italian, Portuguese, Dutch, Greek, Turkish, Romanian.Please be aware translations may require edits.
Latest Version 3.7- May 2022
In WpRentals you can choose different price settings for a listing and you can control which of the available fields to show in the listing submit form:
A default price per night (or per hour),
A different price per night for bookings over 7 days (or custom price per hour for over 7h booking),
A different price per night for bookings over 30 days (or a different price per hour for over 30h),
You can set a different value for 7 and 30, if you wish to offer a discounted price for less or more than 7 and 30 nghts r hours
A different price per night (or hour) for weekend days,
Minimum booking days (or hours),
Price for extra guests,
Cleaning and/or city fee (with the option to calculate these by night, by guest or by guest and night),
Security deposit,
Taxes value,
Early-bird discount in % for bookings made in advance, and more.
The theme supports custom price per night for a specific period including:
Custom price per night for 7d+ or 30d+ bookings. Change 7 and 30 to your values.
Custom price for weekend nights
A minimum number of nights to book for a specific period
Custom price for extra guests
Custom turnover days for a specific period
For booking options, the owner can enable (or disable) the option to calculate the booking fee by the number of guests and price per guest
There is also the possibility to set changeover days (check-in OR check-in and check-out changeover days)
All these can be easily tested using the demo account below.
WP Rentals also supports hourly booking OR daily booking. Check this demo for hourly booking – https://skirent.wprentals.org/ and this new demo for mixt booking: hourly or daily – https://office.wprentals.org
Demo User Access Information
Username = user
Password = 1234
For each listing, the owner can add his extra booking elements and set for each a price by night, by guest, as a single fee or by night and guest. This is managed from the front end submit form – Price details.
You can sync your calendar availability/bookings via Icalendar feed from another platform that supports iCal and export your listing iCal feed to other websites compatible with this system. You can set to import as many Ical feeds as you wish.
Admin receives payments via Paypal, Stripe, or Wire Transfer (offline payments) for publishing new listings and/or a service fee for each confirmed booking. OR enable and use WOO COMMERCE merchants to process payments to admin in 150+ merchants.
There is also support for Instant Check-out with WooCommerce. Demo: https://demo1.wprentals.org/properties/condo-in-liberty-state-park/ .
Each confirmed booking will block the availability calendar and will not allow other bookings for the same period.
General Features
Easy to Get Started
Do you like the demos available? Import any demo with a few clicks and start editing it right away.
Fully Responsive & Retina ready
The theme is ready for all phones and tablets. Offer a smooth user experience on all platforms.
SMS notifications by Twilio
WP Rentals includes SMS notifications through Twilio API platform. Integrate your Twilio phone number, set the SMS text and you're ready to send SMS to verified phone numbers .
Process booking payments with any WooCommerce merchant We allow enabling the option to use WooCommerce for payments instead of theme merchants. WooCommerce has support for over 150 merchants worldwide and can be used in any country. WpRentals also allows using WooCommerce to pay for bookings without LOGIN if Instant Booking is enabled.
Add a custom link to Book Now form
You can now use WpRentals to showcase properties to rent, but when user wants to send a booking request he can be forward to be a 3rd party website (a link you add as you want, can be an affiliate link to Airbnb, Booking.com, HomeAway, etc.)
Bakery Page Builder, Revolution Slider & Ultimate Addons are included
Bakery Page Builder gives you the tools to create a page with drag and drop, without any advanced WordPress knowledge. Ultimate Addons adds to default WPBakery Page Builder a multitude of extra shortcodes for design variety options. Revolution Slider allows you to create modern slideshows with diverse effects and video background that you can set as header media.
Elementor Ready Widgets
Create modern pages with Elementor page builder (the most popular page builder in 2019) and the new 13 WpRentals Elementor Widgets.
Search form Builder for elementor
Create a custom search form with Elementor or choose one of our examples to get you started.
Hourly booking and Daily Booking
Admin can enable hourly bookings for all listings or let owners choose if their listings should have hourly prices or daily prices. Hourly booking allows users to rent objects or places by the hour. Settings include price per hour, the custom price per hour for weekend days, the custom price for an hour for specific periods, minim number of hours, hours availability by listing, and many more. Check https://skirent.wprentals.org/ as demo.
Virtual Tour in Property Page
Add 360 degree virutal tours for each property. Demo: https://main.wprentals.org/properties/west-town-3rd-floor-dorm/
Object Rental (hourly or daily booking)
Enable object rental, and a guest option will not be displayed in the booking form. You can disable the guest dropdown in the listing submission form too. Create your custom fields, customize the advanced search, and build a flexible object rental platform.
Flexible Booking Options for All Users
Let users register, submit places or objects to rent and manage their reservations or bookings from their own account.
Submission Options only for Selected Users
If you wish, you can specify in theme options which users can submit listings on your site. This option allows you to create a single owner site easily.
Deposit Fee
Deposit field is the value you wish to take from a user submitting the request (can be in % or fixed value) before booking is confirmed. If you take only a part to confirm the booking, the other part (remaining payment) can be paid before booking starts (but making full payment via the site is optional).
Service Fee / Admin Booking Fee
As the site admin, you can set a service fee (admin booking fee) that can be a fixed amount or a % of the total invoice. The fee that goes to the site administrator is deducted from owner earnings, but it is paid by the user submitting the request as part of the deposit (which, once set, will be mandatory for booking to be confirmed)
Booking Price Options for daily booking
Set a default price per night, a custom price per night for bookings that go over 7+ days, a custom price per night for 30+ days bookings, price per weekend night, minimum booking days, cleaning and city fee, price for extra guest, global changeover days (check-in OR check-in and check-out days), early-bird discount, security deposit, extra expenses, etc.
Early Bird Discount
You can set discount in % and the minim number of days in advance for discount to apply. The % discount applies to price per night.
Cleaning Fee
You can select Cleaning Fee fixed value and the calculation per night, per guest or per night and guest.