Rhythm – Multipurpose One/Multi Page Template
0.0/5 (0 Feedback)

0 in Queue
Description
This item is an HTML template. It is not compatible with WordPress.
IF YOU NEED SUPPORT OR HAVE ANY QUESTIONS, FEEL FREE TO CONTACT US AT THIS PAGE.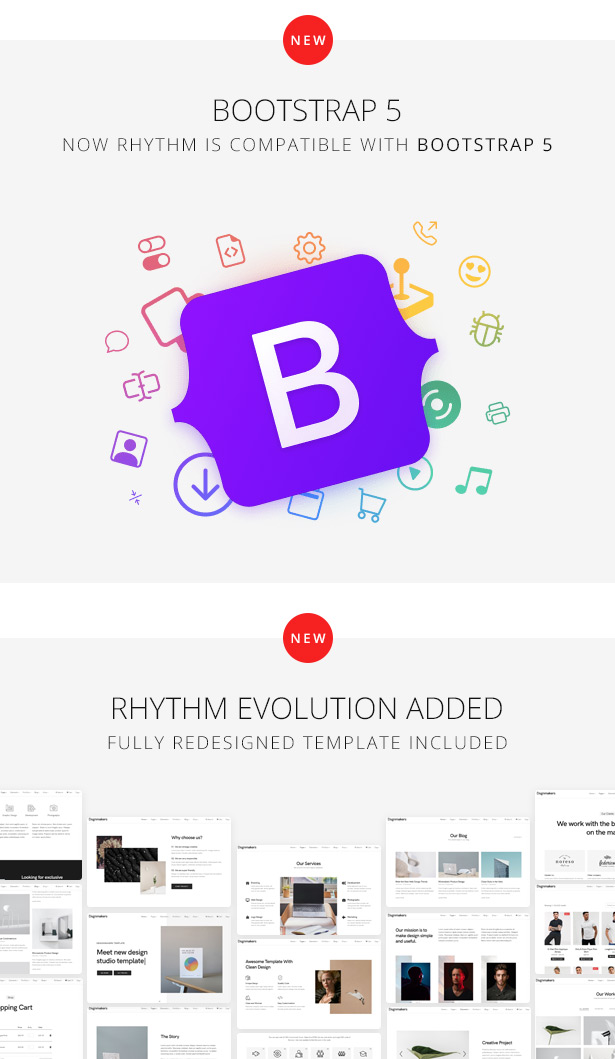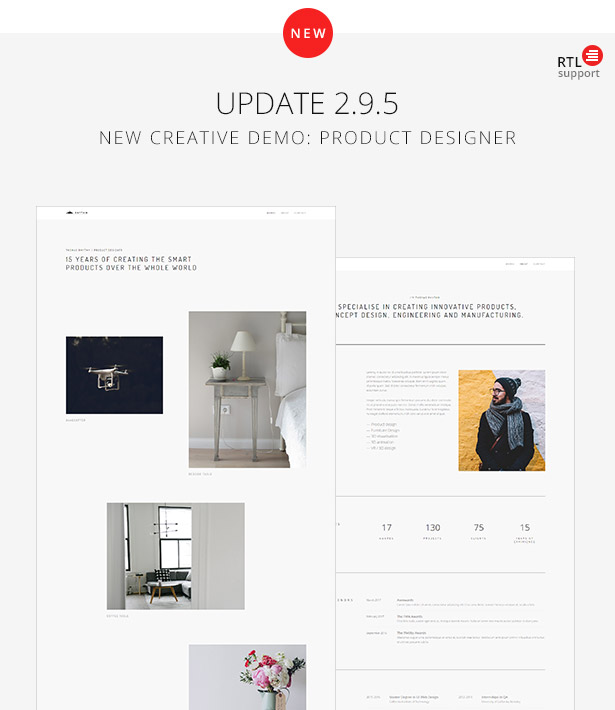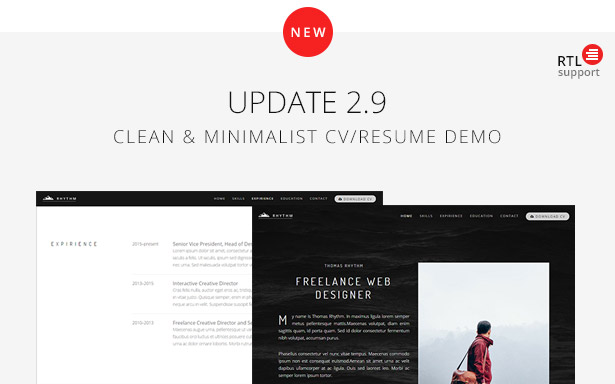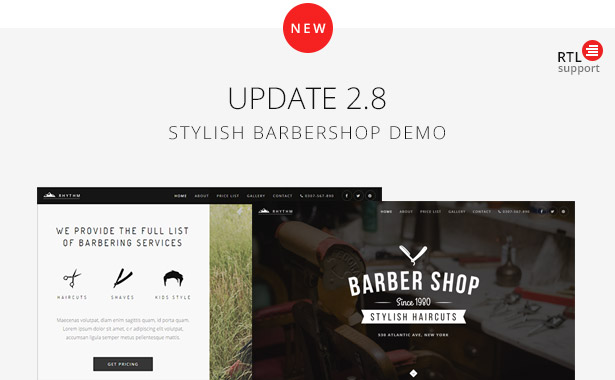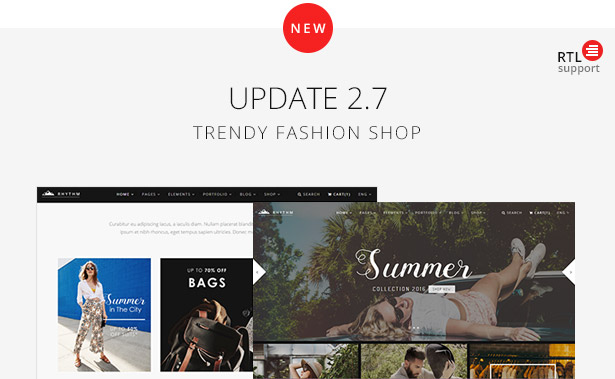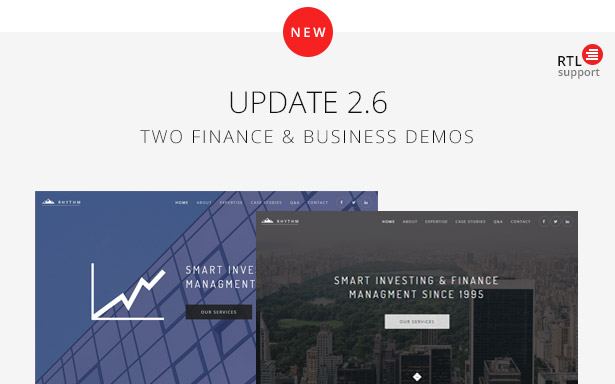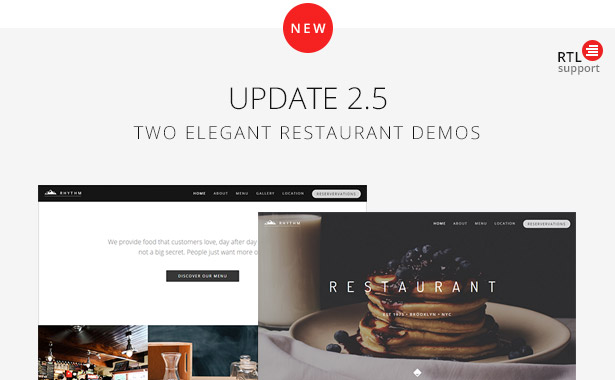 One Page and Multi Page Demos
50+ Different Demos
180+ HTML Files
40+ Portfolio Pages
5 Single Project Pages
Light, Dark and Transparent Menu Bars
Isotope portfolio filtering
Revolution Slider: you save $14.00
Easy to customize: backgrounds, color schemes, content
Fully responsive
Retina ready
Font Awesome 400+ icons
Et-line 100+ icons
Powered with Bootstrap
Parallax sections
Smooth animation
Working Ajax contact form with validation
Working Newsletter form with Mailchimp
Google Maps easy to setup via data attributes
9 Blog layouts
5 Posts variants (Text post, Image, Gallery, Video, Quote)
Powerful shortcodes
Responsive video (YouTube, Vimeo, Blip.tv, Viddler, Kickstarter)
Browser compatibility (Edge, Chrome, Safari, Firefox, Opera)
Well documented
Clear & Neat design
Accurate HTML code with comments
Layered PSD files included
FAQ Included
What Our Customers Say

Credits
All the photos used in this template are intended only to illustrate the template and all the rights on them belong to their legal owners.
Changelog
v. 3.7.2 – 29 September 2022
Rhythm Original:

- small issue slider accessibility was fixed:
--- file /js/all.js (lines 669-711) was updated

- code optimization:
--- file /js/all.js (lines 34-50) was updated
--- file /js/all.js (lines 614-630) was updated
--- all HTML files (JS including) were updated

Rhythm Evolution:

- small issue slider accessibility was fixed:
--- file /css/style.css (lines 5312-5317) was updated
--- file /js/all.js (lines 707-744) was updated

- small bug with portfolio filtering was fixed
--- file /js/all.js (lines 1008-1024) was updated 

- code optimization:
--- file /js/all.js (line 39) was updated
--- file /js/all.js (lines 104-110) was updated
--- file /js/all.js (lines 634-648) was updated
--- all HTML files (JS including) were updated

v. 3.7.1 – 3 August 2022
Rhythm Original:

- small issue lightbox close button was fixed:
--- file /js/jquery.magnific-popup.min.js was updated

- small issue with the vertical logo image was fixed:
--- file /css/style.css (line 1535) was updated

Rhythm Evolution:

- small issue lightbox close button was fixed:
--- file /js/jquery.magnific-popup.min.js was updated

- small issue with the vertical logo image was fixed:
--- file /css/style.css (line 1726) was updated

v. 3.7 – 2 May 2022
Rhythm Original:

- jQuery was updated to the latest version:
--- file /js/jquery-3.5.1.min.js was removed
--- file /js/jquery.min.js was added
--- all HTML files (jQuery including) were updated

- Bootstrap was updated to the latest version:
--- file /css/bootstrap.min.css was updated
--- file /css/bootstrap.min.css.map was updated
--- file /js/bootstrap.bundle.min.js was updated
--- file /js/bootstrap.bundle.min.js.map was updated

Rhythm Evolution:

- jQuery was updated to the latest version:
--- file /js/jquery-3.5.1.min.js was removed
--- file /js/jquery.min.js was added
--- all HTML files (jQuery including) were updated

- Bootstrap was updated to the latest version:
--- file /css/bootstrap.min.css was updated
--- file /css/bootstrap.min.css.map was updated
--- file /js/bootstrap.bundle.min.js was updated
--- file /js/bootstrap.bundle.min.js.map was updated

- small issue with the table element in dark mode was fixed:
--- file /css/style.css (lines 564-575) was updated

v. 3.6.3 – 13 April 2022
Rhythm Original:

- the accessibility issue with navigation in the Windows Narrator screen reader was fixed:
--- file /js/all.js (line 347) was updated
--- file /js/all.js (lines 396-411) was updated

Rhythm Evolution:

- the accessibility issue with navigation in the Windows Narrator screen reader was fixed:
--- file /js/all.js (line 335) was updated
--- file /js/all.js (lines 384-399) was updated

v. 3.6.2 – 28 March 2022
Rhythm Evolution:

- small issue with appearing animation on Safari with enabled option "prefers-reduced-motion:reduce" was fixed:
--- file /css/style.js (lines 1566-1567) was updated
--- file /css/style.js (lines 5389-5390) was updated

v. 3.6.1 – 14 March 2022
Rhythm Original:

- small issue with portfolio-wide-2col.html on extra large screens was fixed:
--- file /css/style.js (line 3408) was updated

Rhythm Evolution:

- small issue with portfolio-wide-2col.html on extra large screens was fixed:
--- file /css/style.js (line 3383) was updated

v. 3.6 – 21 February 2022
Rhythm Original:

- sliders accessibility was improved:
--- file /js/all.js (lines 672-678) was updated

- bug with SMTP method of contact form was fixed:
--- file contact_me_smtp.php was updated
--- file contact_reservations_smtp.php was updated
--- file /php/Exception.php was added

- PHPMailer was updated to the latest version:
--- file /php/PHPMailer.php was updated
--- file /php/SMTP.php was updated

Rhythm Evolution:

- small issue with slider arrows aligment on mobile devices was fixed:
--- file /css/style.js (line 190) was updated

- sliders accessibility was improved:
--- file /js/all.js (lines 710-716) was updated

- bug with SMTP method of contact form was fixed:
--- file contact_me_smtp.php was updated
--- file /php/Exception.php was added

- PHPMailer was updated to the latest version:
--- file /php/PHPMailer.php was updated
--- file /php/SMTP.php was updated

v. 3.5 – 20 January 2022
Rhythm Original:

- bug with newsletter form in the footer widget was fixed:
--- html code of newsletter form in the footer widget was updated

- small with mobile menu was fixed:
--- file /js/all.js (line 257) was updated
--- file /js/all.js (line 347) was updated

Rhythm Evolution:

- small bug with accordion in dark version was fixed:
--- file /css/style.css (line 5770) was updated

- small with mobile menu was fixed:
--- file /js/all.js (line 251) was updated
--- file /js/all.js (line 335) was updated

v. 3.4 – 23 November 2021
Rhythm Evolution:

- small bug with tabs hover text color was fixed:
--- file /css/style.css (lines 5528) was updated

- small bug with animation in Safari 15 was fixed:
--- file /css/style.css (lines 250-255) was updated
--- file /js/all.js (line 1015) was updated
--- file /js/all.js (lines 1122-1168) was updated

v. 3.3 – 15 September 2021
Rhythm Original:

- Bootstrap was updated to the latest version:
--- file /css/bootstrap.min.css was updated
--- file /css/bootstrap.min.css.map was updated
--- file /js/bootstrap.bundle.min.js was updated
--- file /js/bootstrap.bundle.min.js.map was updated

- small issue with vertical oriented logo images was fixed:
--- file /css/style.css (line 1524) was updated

- small issue with .bg-dark section was fixed
--- file /css/style.css (line 2577) was updated

Rhythm Evolution:

- Bootstrap was updated to the latest version:
--- file /css/bootstrap.min.css was updated
--- file /css/bootstrap.min.css.map was updated
--- file /js/bootstrap.bundle.min.js was updated
--- file /js/bootstrap.bundle.min.js.map was updated

v. 3.2 – 28 July 2021
Rhythm Original:

- small bug side panel (photographer demo) om mobile devices was fixed:
--- file /js/all.js (line 1158-1201) was updated

- Bootstrap was updated to the latest version:
--- file /css/bootstrap.min.css was updated
--- file /css/bootstrap.min.css.map was updated
--- file /js/bootstrap.bundle.min.js was updated
--- file /js/bootstrap.bundle.min.js.map was updated

- small bug with tabs was fixed:
--- file /css/style.css (lines 5170) was updated

Rhythm Evolution:

- Bootstrap was updated to the latest version:
--- file /css/bootstrap.min.css was updated
--- file /css/bootstrap.min.css.map was updated
--- file /js/bootstrap.bundle.min.js was updated
--- file /js/bootstrap.bundle.min.js.map was updated

- small bug with tabs was fixed:
--- file /css/style.css (lines 5469) was updated

v. 3.1 – 12 June 2021
Rhythm Original:

- small bug was fixed:
--- file /css/style.css (line 6607) was updated

- PHPMailer was updated to the latest version:
--- file /php/PHPMailer.php was added
--- file /php/SMTP.php was added
--- file contact_me_smtp.php was updated
--- file contact_reservations_smtp.php was updated
--- file /php/class.phpmailer.php was removed
--- file /php/class.smtp.php was removed
--- file /php/PHPMailerAutoload.php was removed

- Bootstrap was updated to the latest version:
--- file /css/bootstrap.min.css was updated
--- file /css/bootstrap.min.css.map was updated
--- file /js/bootstrap.bundle.min.js was updated
--- file /js/bootstrap.bundle.min.js.map was updated

Rhythm Evolution:

- small bug with contact form in dark version was fixed:
--- file /css/style.css (lines 874-935) was updated

- small bug was fixed:
--- file /css/style.css (lines 1528) was updated

- PHPMailer was updated to the latest version:
--- file /php/PHPMailer.php was added
--- file /php/SMTP.php was added
--- file contact_me_smtp.php was updated
--- file /php/class.phpmailer.php was removed
--- file /php/class.smtp.php was removed
--- file /php/PHPMailerAutoload.php was removed

- Bootstrap was updated to the latest version:
--- file /css/bootstrap.min.css was updated
--- file /css/bootstrap.min.css.map was updated
--- file /js/bootstrap.bundle.min.js was updated
--- file /js/bootstrap.bundle.min.js.map was updated

v. 3.0 – 5 May 2021
- bootstrap was updated to version 5.0:
--- file /css/bootstrap-rtl.min.css was removed
--- file /js/bootstrap.min.js was removed
--- file /js/jquery-migrate-1.4.1.min.js was removed
--- file /js/bootstrap.bundle.min.js was added
--- file /css/bootstrap.min.css was updated
--- file /css/style.css was updated
--- file /css/vertical-rhythm.min.css was updated
--- file /js/all.js was updated
--- all HTML files were updated

- rhythm evolution was added:
--- folder "rhythm-evolution" was added

v. 2.21 – 13 April 2021
- mobile menu was improved:
--- file /css/style.css (lines 1862-1865) was updated

- portfolio section was improved:
--- file /css/style.css (lines 3407-3408) was updated

- portfolio section was improved:
--- file /css/style.css (lines 3407-3408) was updated

- accessibility of portfolio filtering was improved:
--- file /js/all.js (lines 1303-1304) was updated
--- HTML code of portfolio filter was updated

- bug with a slider lazy-loading was fixed:
--- file /js/all.js (lines 994-997) was updated

- accessibility of main menu was improved:
--- file /js/all.js (line 270) was updated

v. 2.20.1 – 18 February 2021
- bug with wow animation was fixed:
--- file /css/style.css (line 6625) was updated

v. 2.20 – 11 February 2021
- accessibility of accordions was improved:
--- file /js/all.js (lines 544-589) was updated

- accessibility of wow animation was improved:
--- file /css/style.css (lines 6615-6623) was updated
--- file /js/wow.min.js was updated
--- file /js/all.js (lines 1416-1418) was updated

v. 2.19 – 21 December 2020
- bug with background Youtube video on macOS Big Sur was fixed:
--- file /js/jquery.mb.YTPlayer.js was updated

v. 2.18 – 25 November 2020
- accessibility of sliders was improved:
--- file /js/all.js (lines 661-887) was updated

- newsletter form was improved:
--- file /js/jquery.ajaxchimp.min.js was updated

v. 2.17 – 25 September 2020
- small bug with multi-level menu was fixed:
--- file /css/style.css (line 1652) was updated

- bug with lightbox video autoplay was fixed:
--- file /css/magnific-popup.css was updated
--- file /js/jquery.magnific-popup.min.js was updated

- typography was improved:
--- file /css/style.css (line 6594) was updated

v. 2.16 – 3 August 2020
- bug with revolution slider was fixed:
--- file /js/rev-slider.js was updated 

- small improvements was added:
--- file/css/style.css (lines 230-231) was updated
--- file/css/style-responsive.css.css was updated
--- file /js/all.js (line 225-232) was updated

- accessibility of sliders was improved:
--- file /css/style.css (line 5009-5028) was updated
--- file /js/all.js (lines 660-840) was updated

- accessibility of fullscreen menu and sidebar menu (photographer demo) was improved:
--- file /js/all.js (lines 959-1102) was updated

- accessibility of text rotator was improved:
--- file /js/jquery.simple-text-rotator.min.js was updated

- accessibility of contact and newsletter forms was improved:
--- HTML code of newsletter form was updated
--- HTML code of contact form was updated

- "skip to content" link was added:
--- file /css/style.css (line 6564) was updated
--- all HTML files were updated ("main" tag was added)

- intro page was updated:
--- file intro.html was updated
--- folder /images/intro was updated

v. 2.15 – 3 June 2020
- newsletter form was improved
--- file /css/style.css (line 984) was updated
--- file /js/jquery.ajaxchimp.min.js was updated

- accessibility of main menu was improved:
--- file /js/all.js (lines 149-357) was updated
--- file /css/style.css (line 1623) was updated
--- file /css/style.css (line 1780) was updated
--- file /css/style.css (line 229) was updated
--- HTML code of mobile menu button was updated

- third-party plugins were updated:
--- file /css/bootstrap.min.css was updated
--- file /js/bootstrap.min.js was updated
--- file /js/jquery-3.5.1.min.js was added
--- file /js/jquery-migrate-1.4.1.min.js was added
--- file /js/jquery-1.11.2.min.js was removed
--- all HTML files was updated (scripts including)

v. 2.14 – 2 February 2020
- accessibility was improved
--- file /css/style.css (line 234) was updated
--- file /css/style.css (line 5936) was updated
--- file /js/all.js (lines 337-346) was updated
--- file /js/all.js (lines 569-783) was updated
--- file /js/all.js (lines 1584-1599) was updated

- third-party plugins were updated:
--- file /js/jquery.localScroll.min.js was updated
--- file /js/jquery.scrollTo.min.js was updated

- bug with parallax background on iPadOS was fixed
--- file /css/style-responsive.css (line 847) was updated
--- file /js/all.js (line 412) was updated

v. 2.13 – 22 October 2019
- accessibility was improved - keyboard navigation was added in fullscreen menu:
--- file /js/all.js (lines 850-877) was updated

- lazy-loading function was added:
--- file elements-sliders-lazyload.html was added
--- file portfolio-lazyload.html was added
--- file elements-images-lazyload.html was added
--- file images/portfolio/projects-thumb.gif was added
--- file /js/jquery.lazyload.min.js was added
--- file /js/all.js (lines 559-700) was updated
--- file /js/all.js (lines 1135-1151) was updated
--- file /js/isotope.pkgd.min.js was updated
--- all HTML files were updated (scripts includings in the end of the documents)
--- HTML code of multi-level menu was updated

-  behaviour of "mute" button for HTML5 video was improved:
--- file /js/jquery.backgroundvideo.min.js was updated

-  YTplayer plugin was updated:
--- file /js/jquery.mb.YTPlayer.js was updated

v. 2.12 – 31 May 2019
- documentation was updated

- accessibility was improved - keyboard navigation was added ([TAB], [SHIFT]+[TAB]]):
--- file /css/style.css (lines 227-237) was updated
--- file /js/all.js (lines 279-322) was updated
--- file /js/all.js (lines 539-546) was updated
--- file /js/all.js (line 1092) was updated
--- file /js/all.js (line 1159) was updated
--- HTML code of Google Maps sections was updated

- plugin SmoothScroll.js was updated to the latest version
--- file /js/SmoothScroll.js was updated

- newsletter form was improved:
--- file /js/jquery.ajaxchimp.min.js was updated

- intro page was updated:
--- file intro.html was updated
--- file /css/style.css (line 5631) was updated

v. 2.11.1 – 4 January 2019
- issue with HTML5 background video on IOS was fixed:
--- file /js/jquery.backgroundvideo.min.js was updated 

v. 2.11 – 12 November 2018
- jquery.mb.YTPlayer was updated to the latest version:
--- file /js/jquery.mb.YTPlayer.js was updated 

v. 2.10 – 29 June 2018
- Google Maps Api was replaced with Google Maps embed (details - https://forums.envato.com/t/important-changes-to-the-google-maps-platform/173357):
--- file /css/style.css was updated ("Google Maps" section)
--- file /css/style-responsive.css was updated
--- file /js/all.js was updated ("Google Maps" section)
--- all HTML files were updated (removed including of Google Maps Api and file /js/gmap3.min.js)
--- HTML code of Google Maps sections was updated
--- file /js/gmap3.min.js was removed