Kalles – Clean, Versatile, Responsive Shopify Theme – RTL support
0.0/5 (0 Feedback)

0 in Queue
Description
Exclusive Offer for The4 buyers: Get the FREE Partner Plan of EComposer for lifetime!
EComposer is the next generation of Shopify page builder that helps you create your dream store in the fastest way. Learn more about app on Shopify Store.
How to redeem offer?
After buying The4 theme, let install EComposer then chat with our support team in EComposer app dashboard, mention "The4 + EComposer" to upgrade your app plan for free!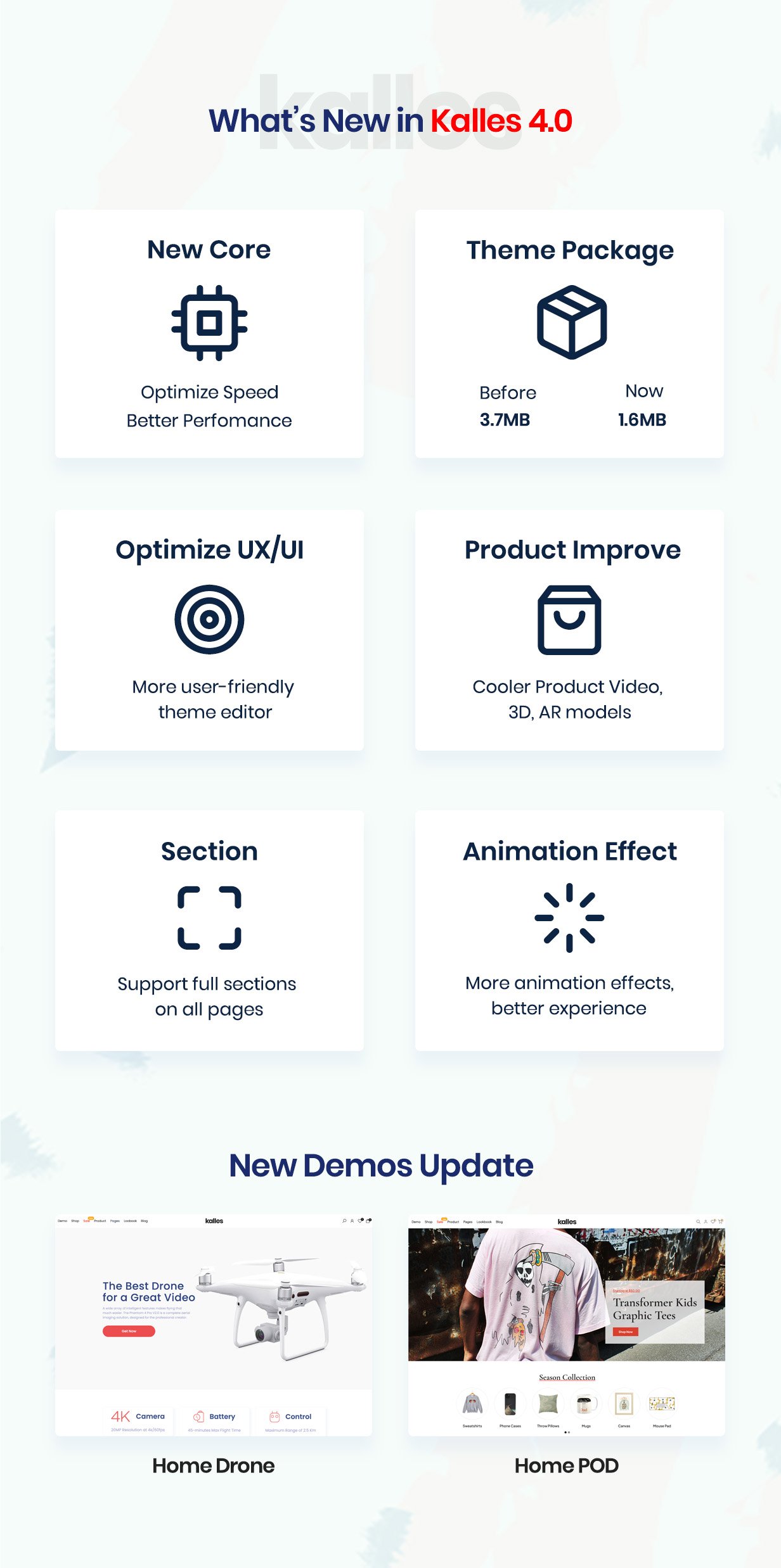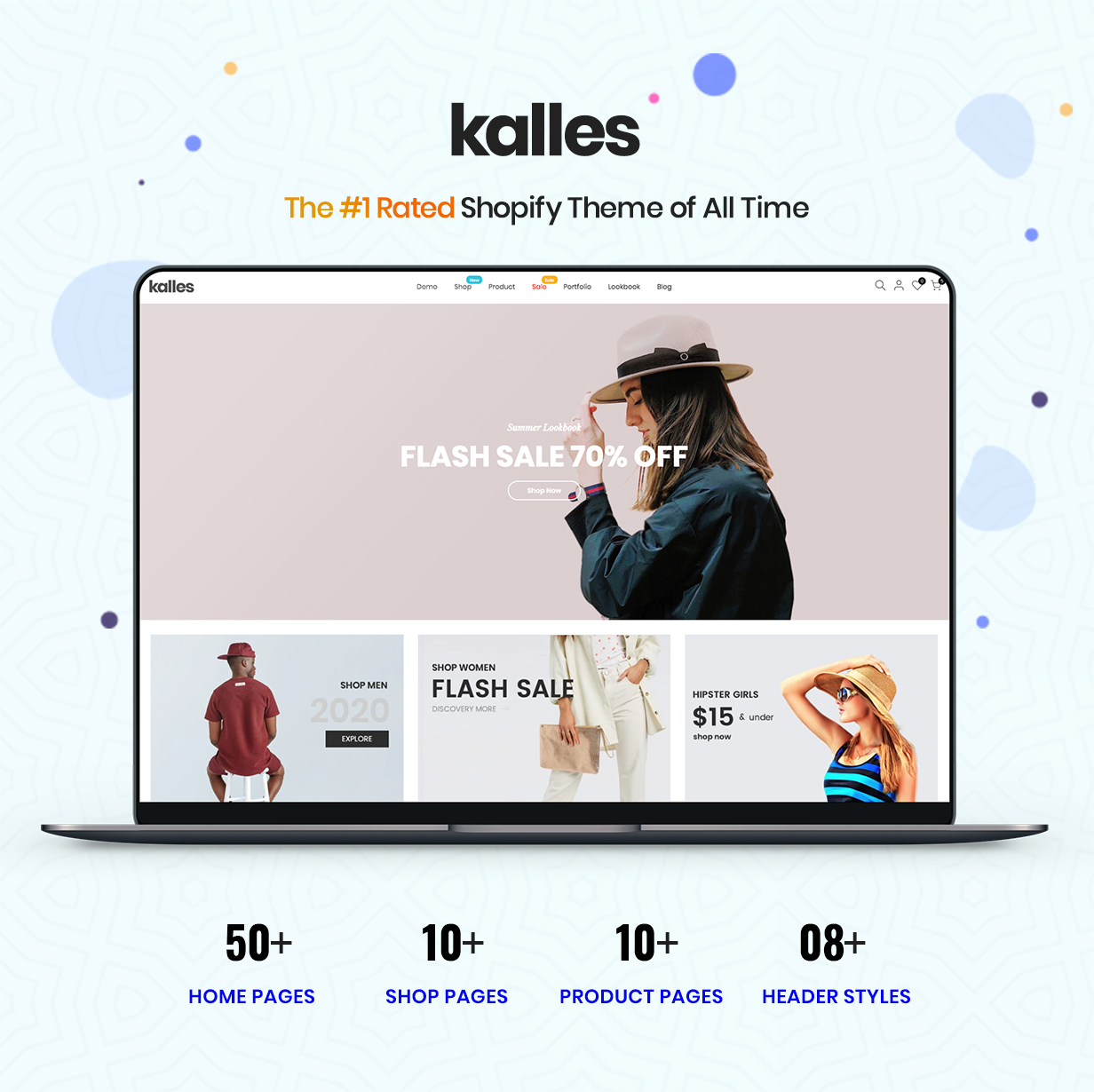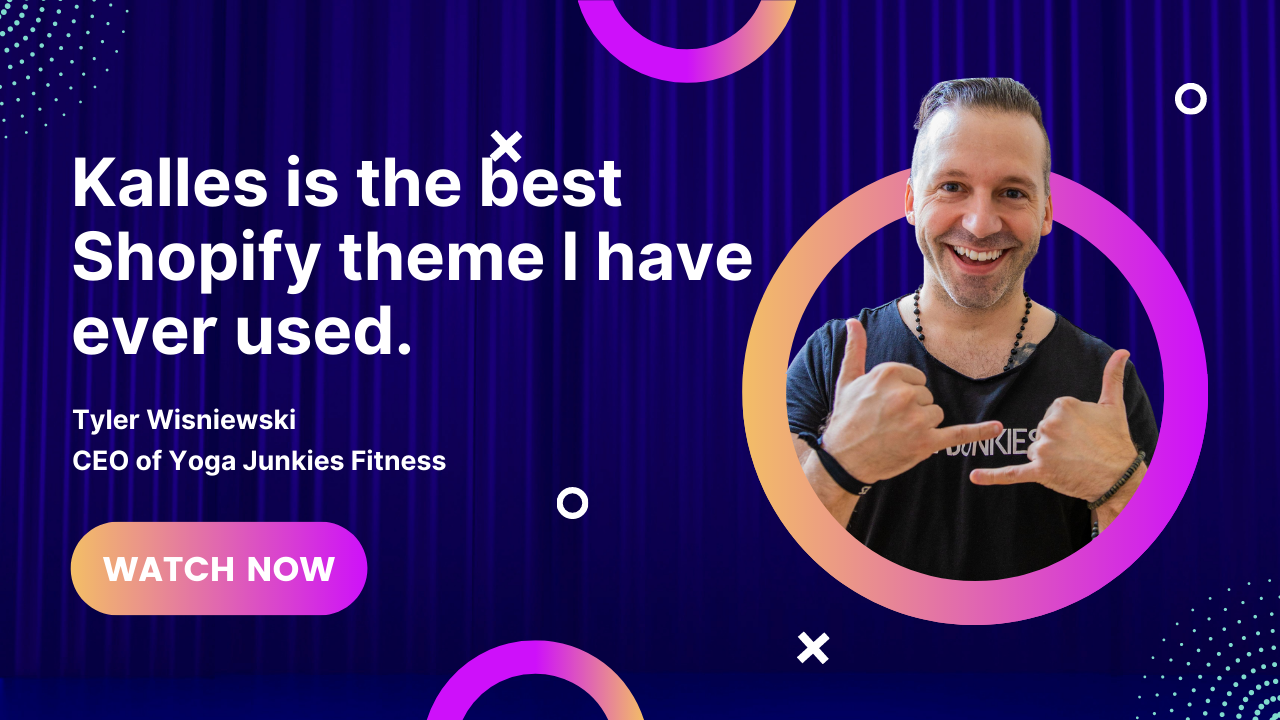 Why are our pricing greater than other products?
Our 9 years of expertise in the area of e-commerce has been carefully and totally put in this product. This product is for individuals who are serious about growing their company and do not want to spend $19, $29, or $39 on it. We do not offer low-cost items; rather, we sell high-quality items and services. When you purchase Kalles, you will discover a great deal.
Plenty of Stunning Demos to choose from

Kalles includes more than fifteen purpose-built demonstrations, each with a variety of outstanding features and eye-catching styles. With our one-click install, you can simply import the demo and then add your content and publish in minutes.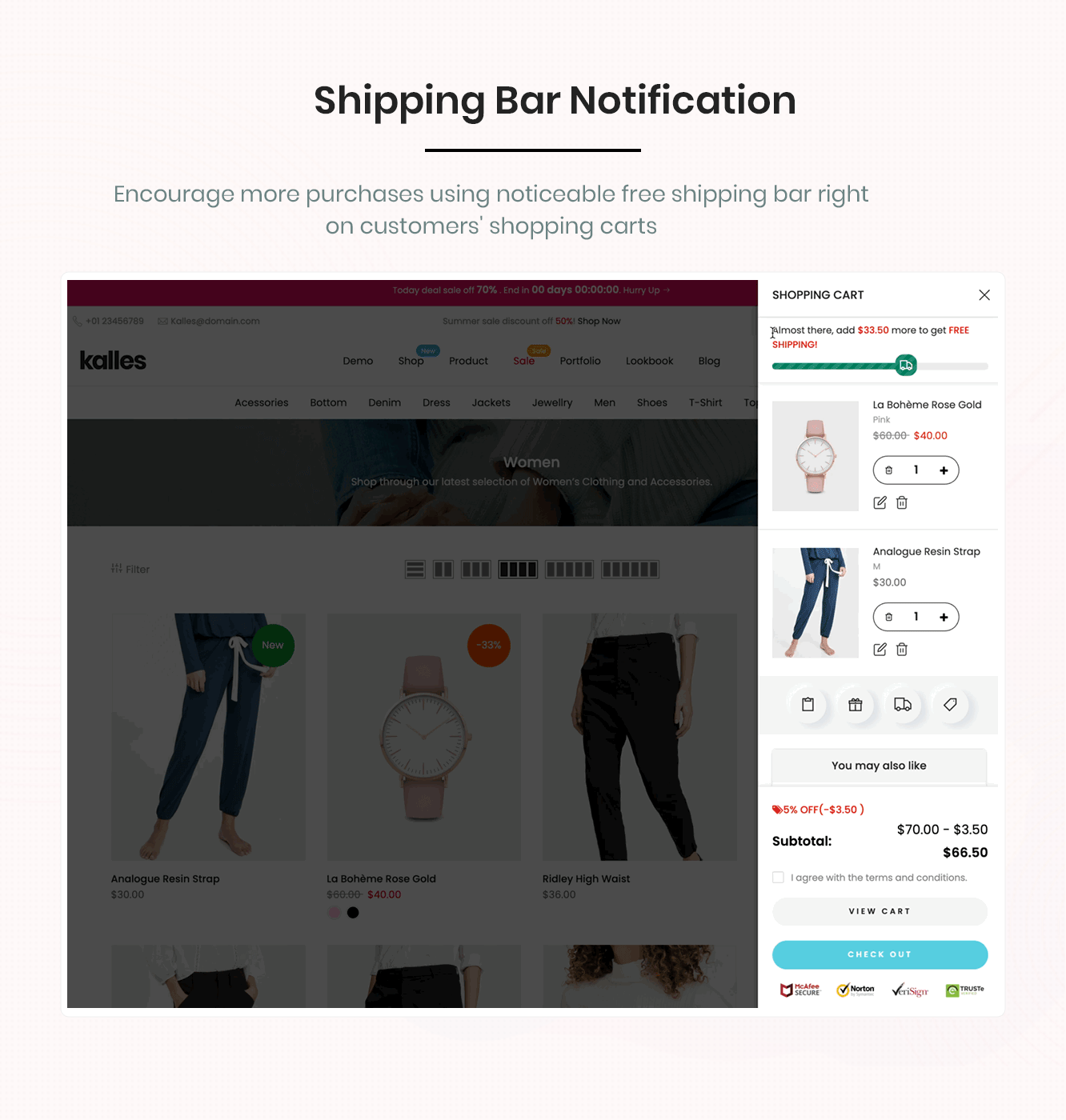 Whatever you're selling, Kalles is the only Shopify theme you'll need to build a robust online store that provides a smooth and seamless shopping experience for your consumers. Kalles is built for a variety of various online businesses, with a modern design, minimalist feel, and a variety of specific demonstrations. Display your items in a stylish manner and make it simple for your consumers to explore, choose, and buy.
Kalles is the epitome of simplicity, innovation, and affordability.
We are delighted to provide Kalles – The BEST Shopify Theme!
Exclusive deal: Get FlashSearch 2 months for free.

Establishing a partnership with FlashSearch allows The4 customers to receive exclusive FlashSearch offers and also helps FlashSearch acquire new customers. We hope that you will be satisfied with the products and services of The4 and our partners.
New filters has arrived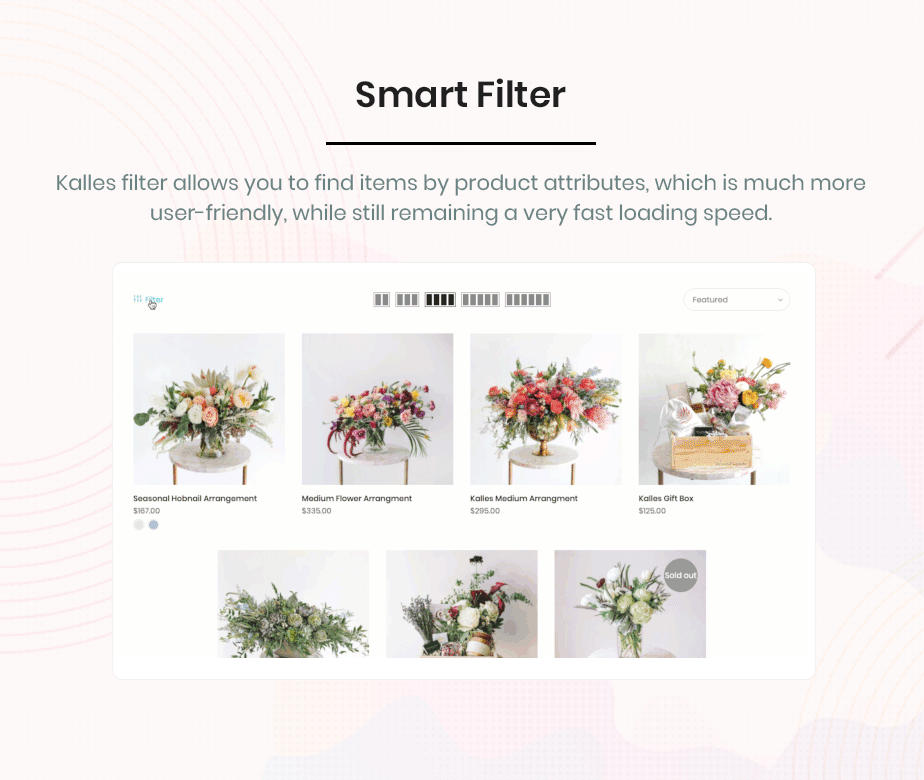 The new powerful filter allows you to filter the product attributes instead of tags while still maintaining a very fast loading speed. The new version is being finalized with more valuable new features. We are sure Kalles will help you achieve the possible highest conversion rate.
Super Fast Loading Speed
Did you know that page load speed affects 70% of traffic? Users will not stick around and buy if the speed is too slow. With this in mind we have made Kalles one of our fastest themes yet.
Kalles 1.1 – Advance Product Upsell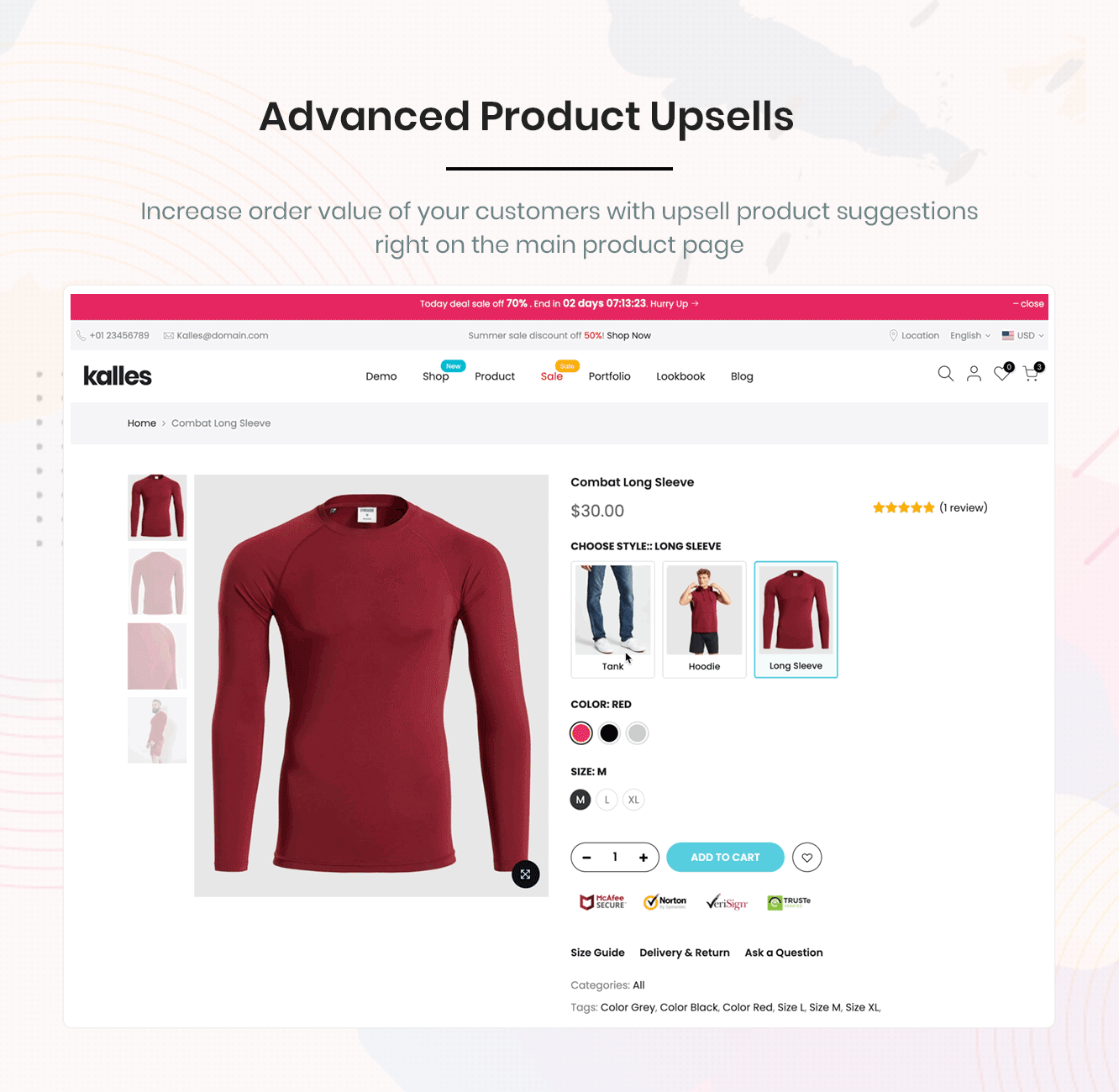 Features that are not yet available on any Shopify theme. Inspired by dropship T-shirt stores, it makes it easy to increase conversion rates by including related products. Related products will also show this block, which is a cross selling feature that helps you get the highest conversion rates. You can check the demo HERE and this is DOCUMENT
Responsive and Retina-Ready Design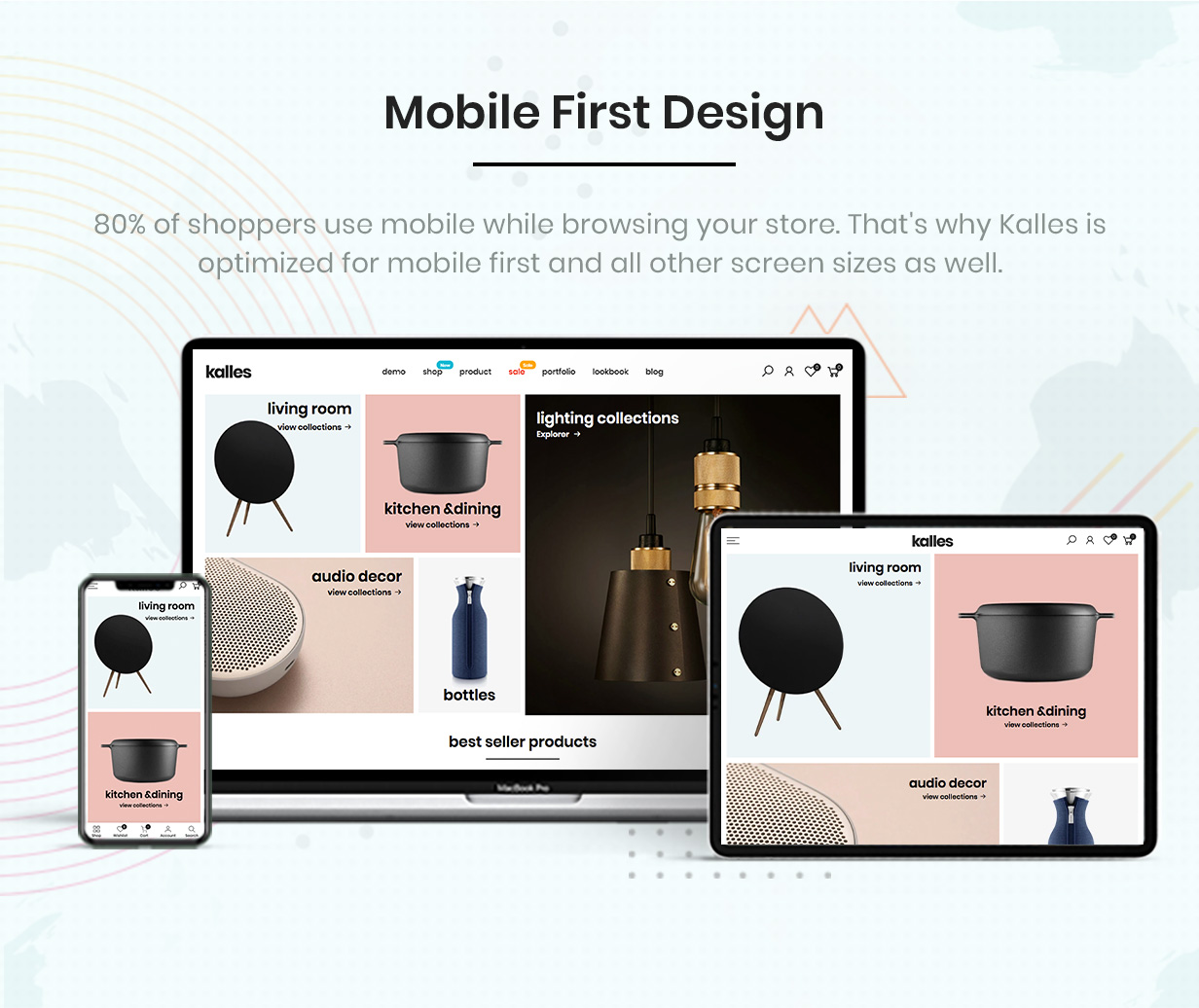 Kalles will guarantee that your store appears and performs correctly on whatever device that your website is accessed on. This includes fulfilling the device's specs and dimensions without interfering with the user's experience and without requiring any further input from you or your developer.
Kalles now supports video thumbnails and 3D.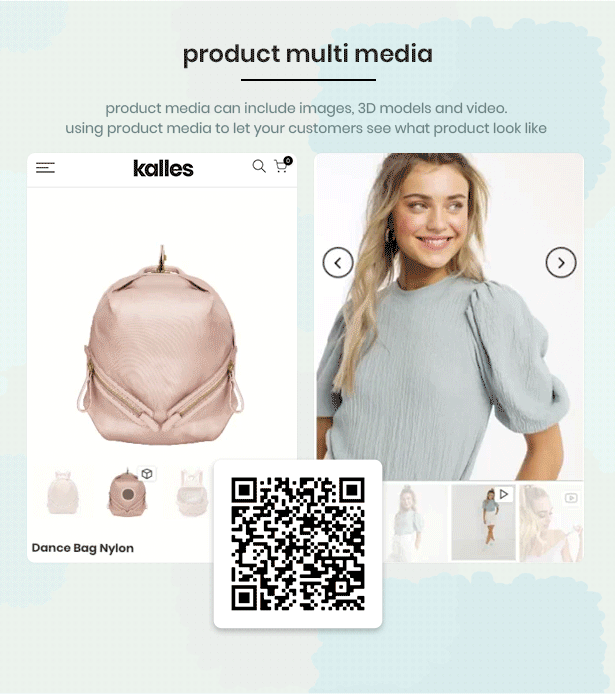 This official Shopify functionality is now available on Kalles. This functionality is currently supported by Kalles and Molla; we will update more themes shortly. This functionality is described in detail HERE.
Frequently Bought Together Built-in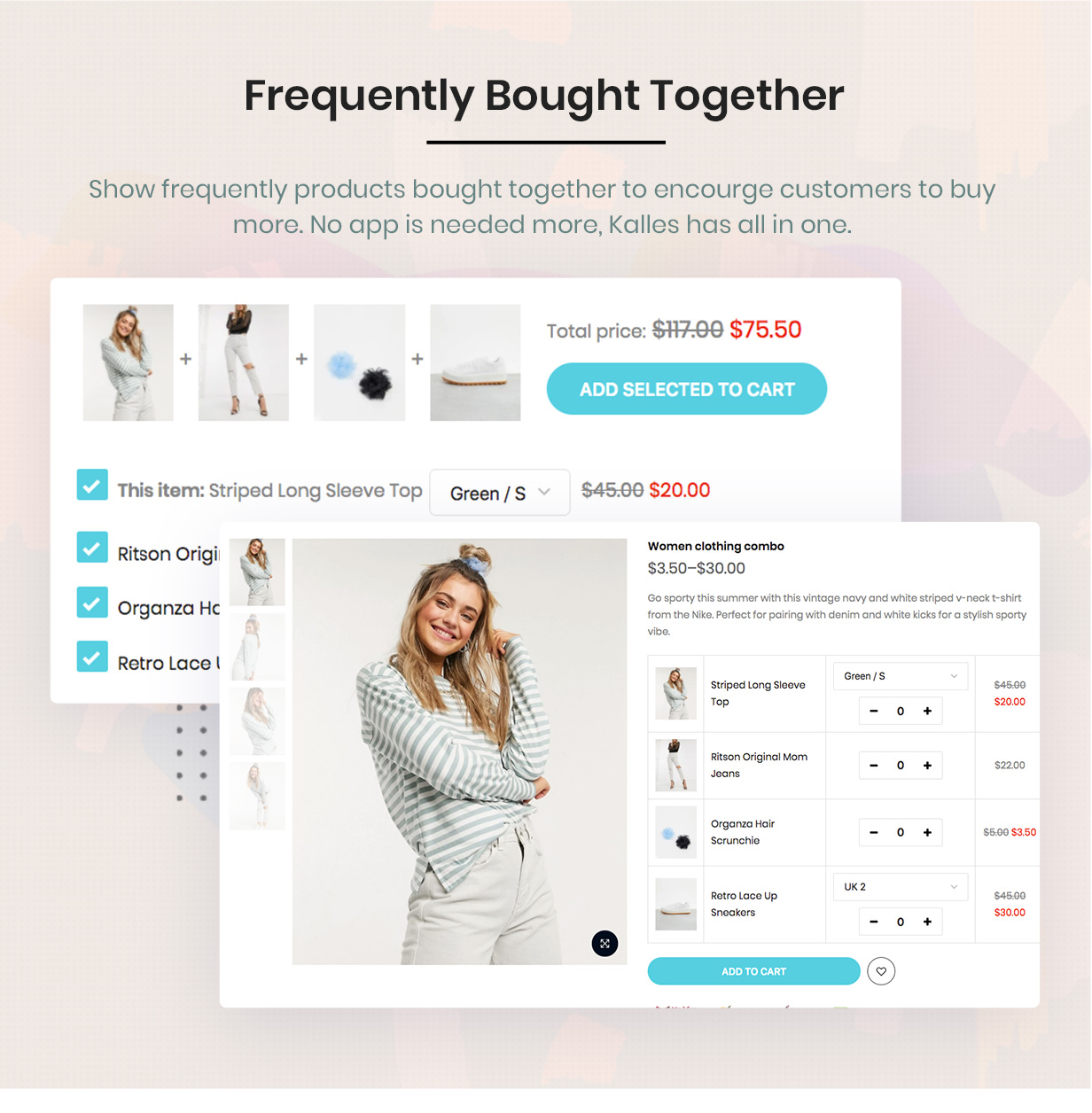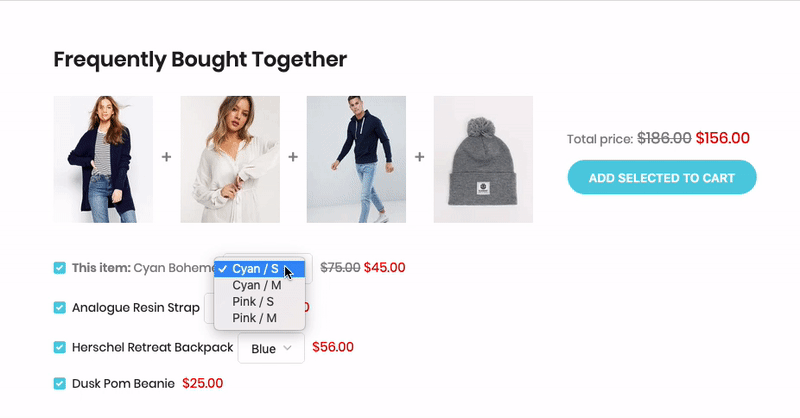 The built-in feature Frequently Bought Together integrates this clever upsell functionality into Shopify in the most convenient way: you can have it ready in your shop in 5 minutes with simple and straightforward setup.
Versatile Product Layouts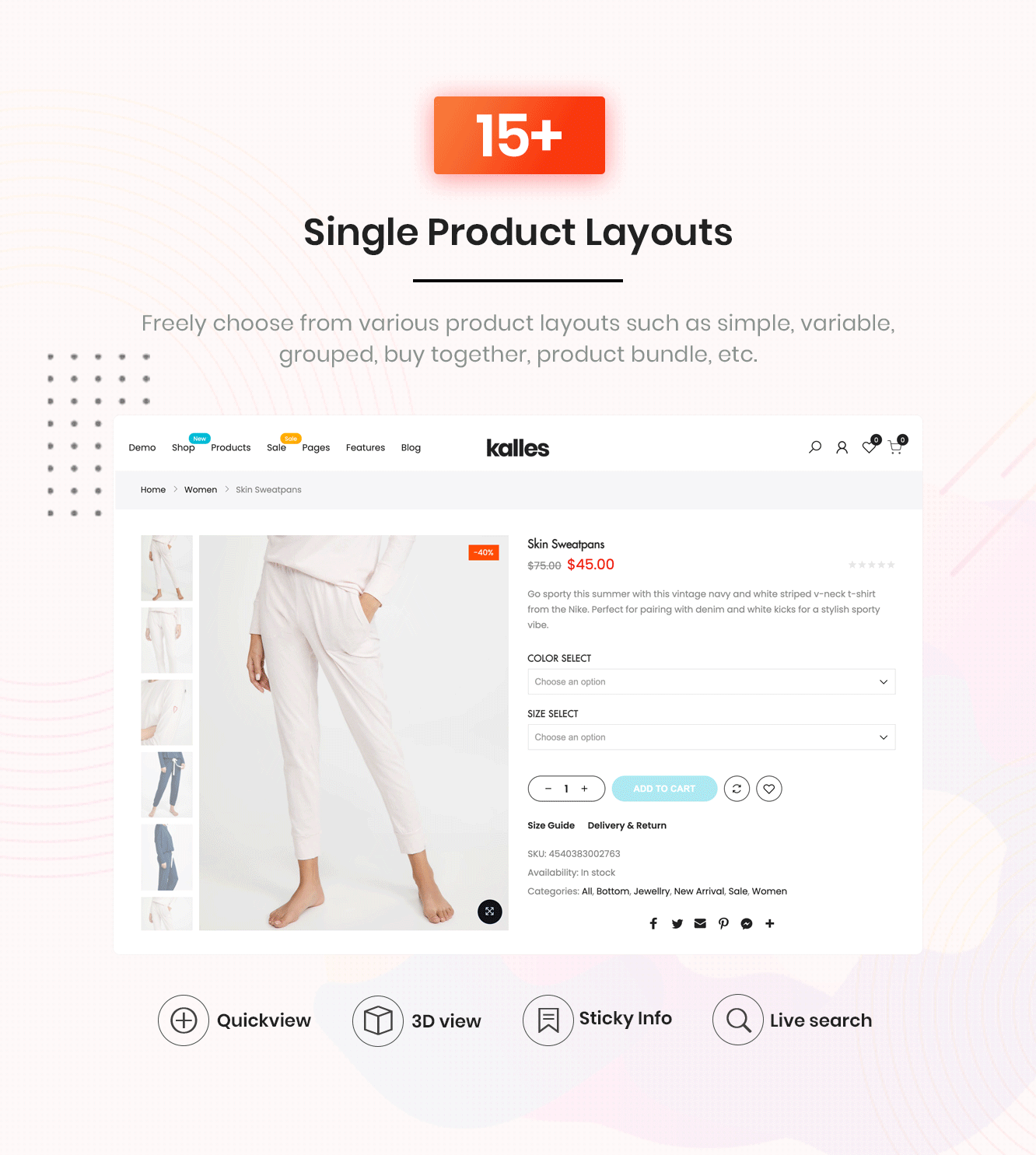 Don't limit yourself to traditional product detail layouts. Kalles features a variety of configurable choices that allow you to promote your items in the manner that works best for you. Choose whether your thumbnails appear on the left, right, or bottom of a listing, or use the Sticky function to keep your product description in place while scrolling.
Kalles is an extremely flexible theme.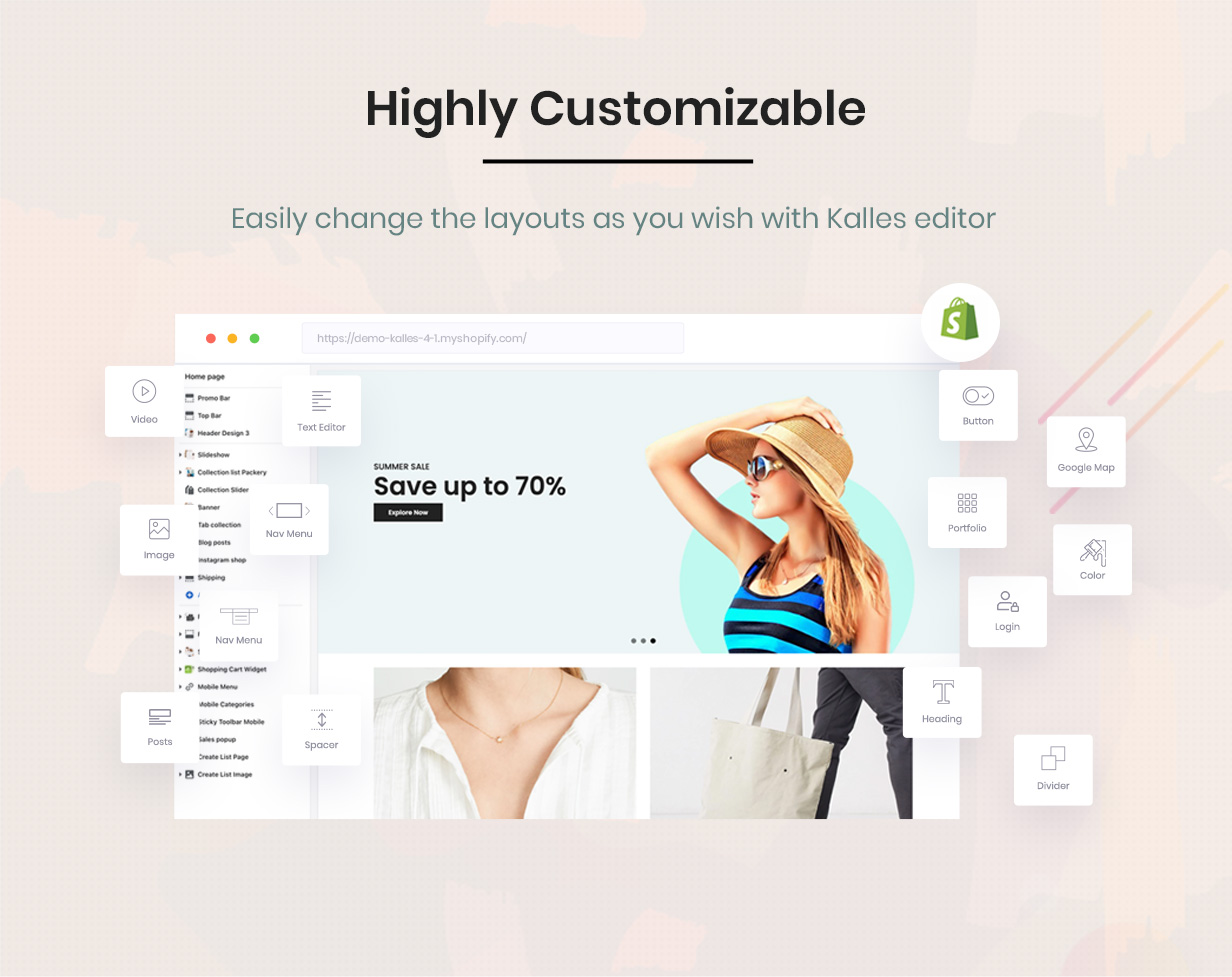 We built Kalles to emphasize design and flexibility. Well, how to say … it's really flexible…You can customize the position of the product page elements easily, the homepage sections have many options for you. For some design clients, they may not even realize this is Kalles. Kalles is the best theme for everything like design, page load speed, flexibility and so much more …
Optimized Product Pages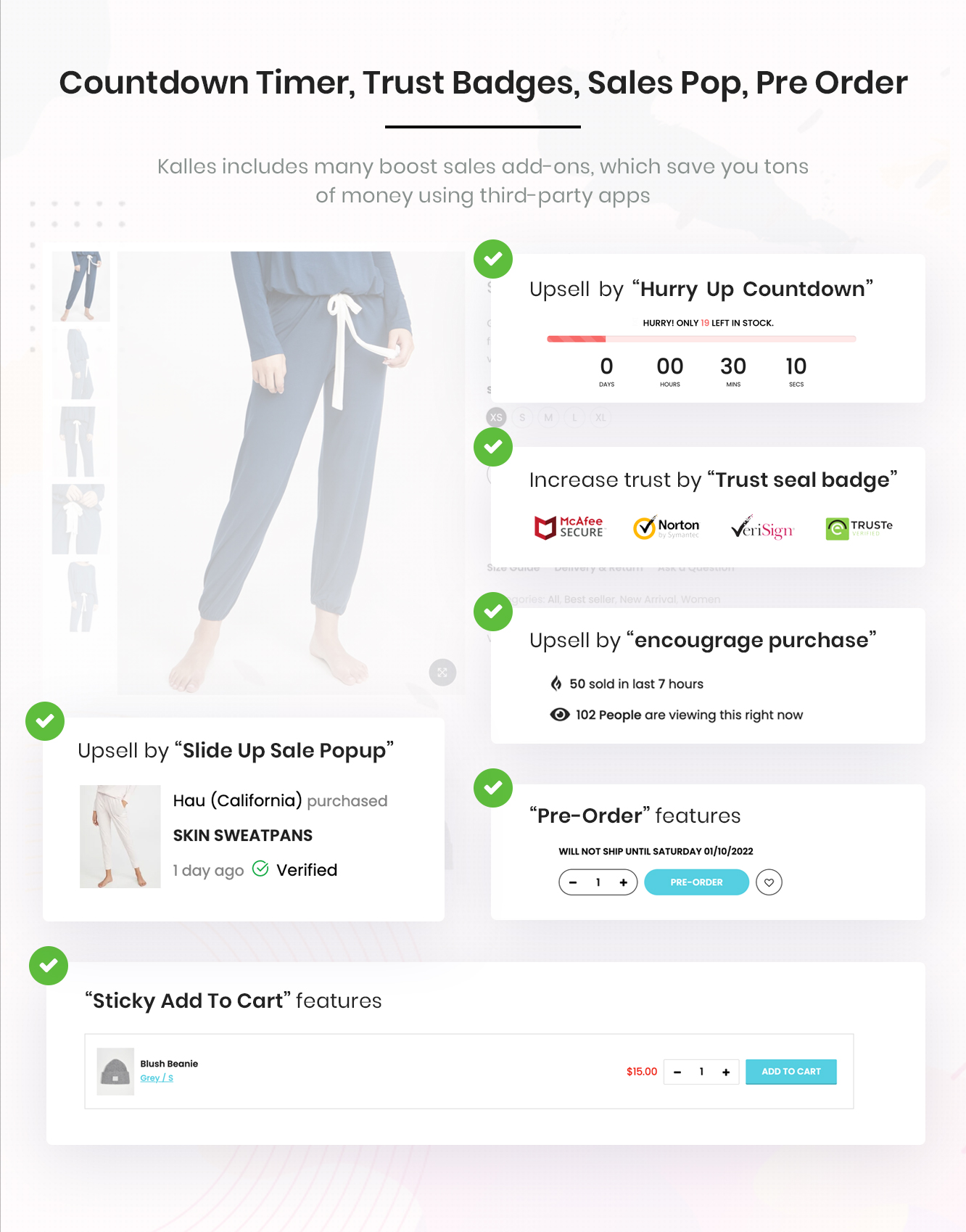 Everything on the product page is optimized and streamlined to bring the best experience to your customers. It also has numerous components that help increase conversion rates. Everything looks clean, tidy and professional.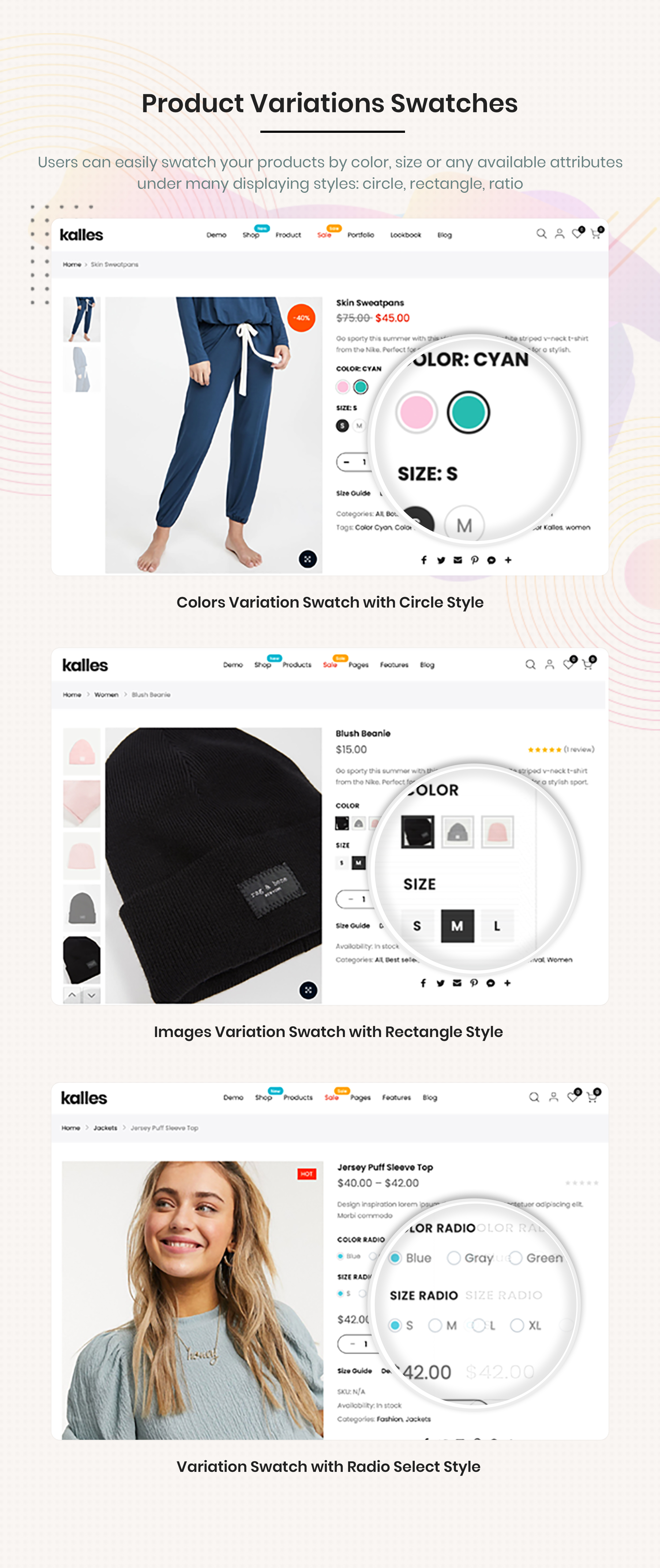 Kalles also supports a variety of product variant interfaces, allowing you to easily customize how they are displayed on product pages, collection pages, home page, etc.
9+ Header Layouts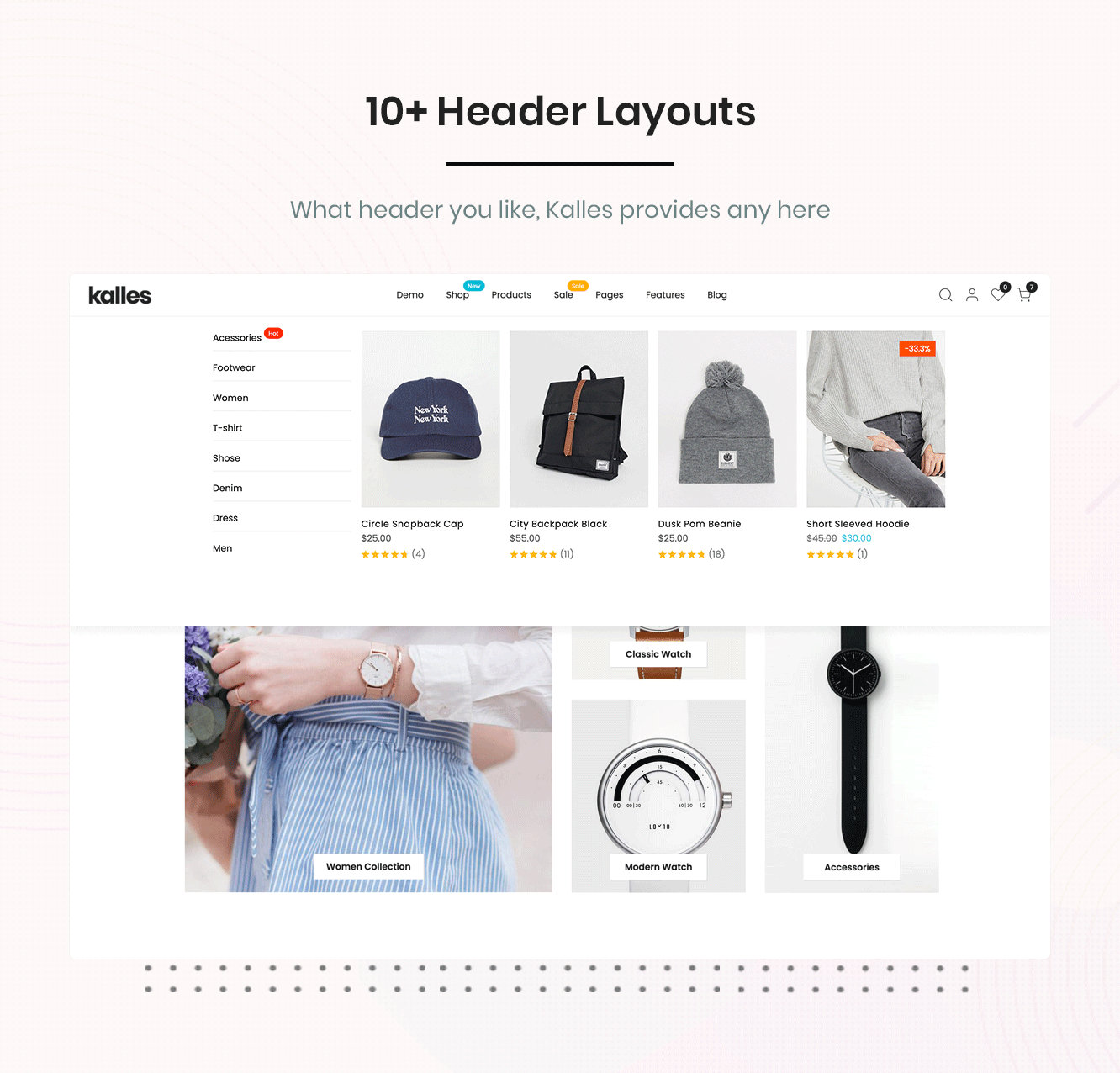 Kalles supports up to 9 Header options. Customers will feel your shop is professional from the first second of seeing the Header.
Save up to $1500 a Year on Shopify App Fees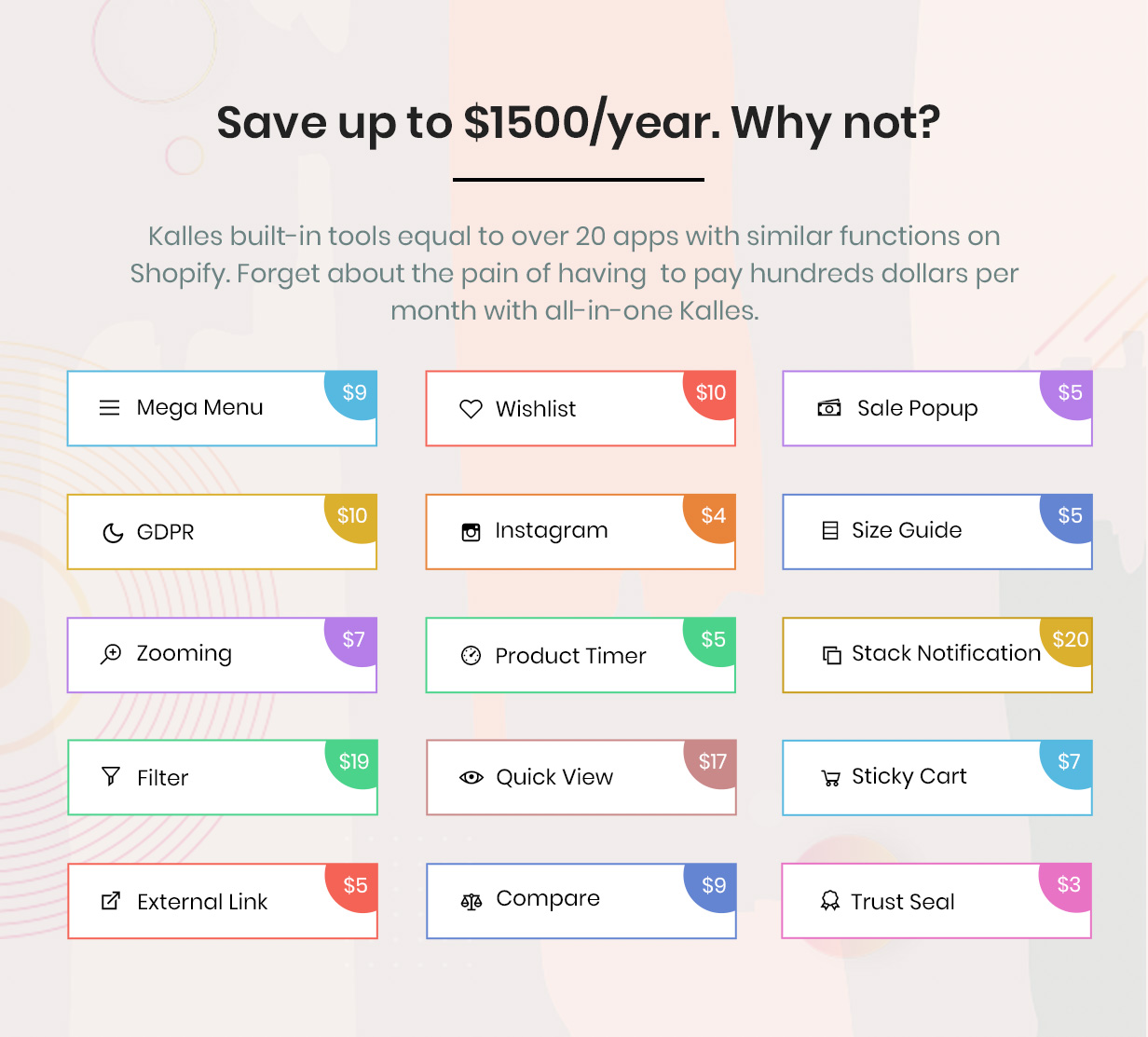 You won't have to purchase or download expensive applications because Kalles has it all, and it's Completely Free. Just take a look at some of the applications you can save on in the image above, you will see how great Kalles is.
Awesome Shop Layouts with innovative Ajax technology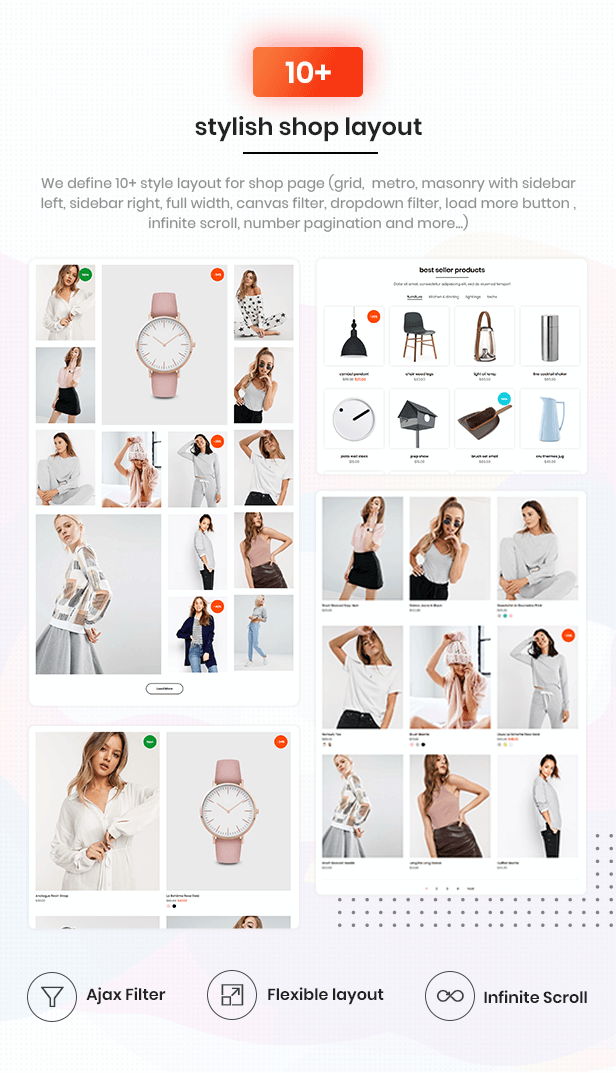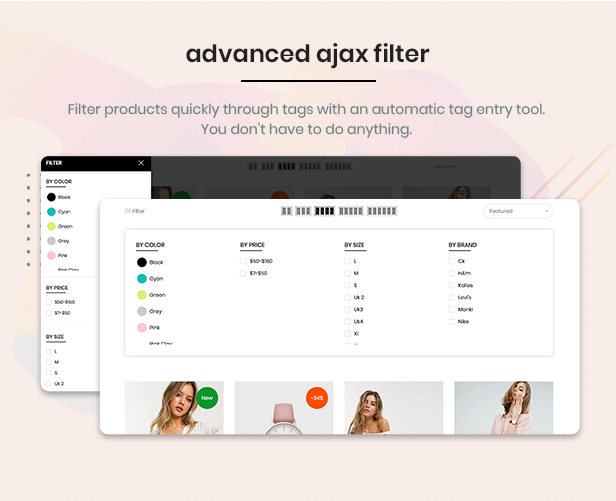 Give your visitors the most seamless experience with filters powered by Ajax. Ajax filters mean your pages won't need to refresh or reload when search parameters are changed. Customers can change multiple filter types in a few simple clicks and once they've applied the filter, the products will update fluidly.
Awesome Mega Menu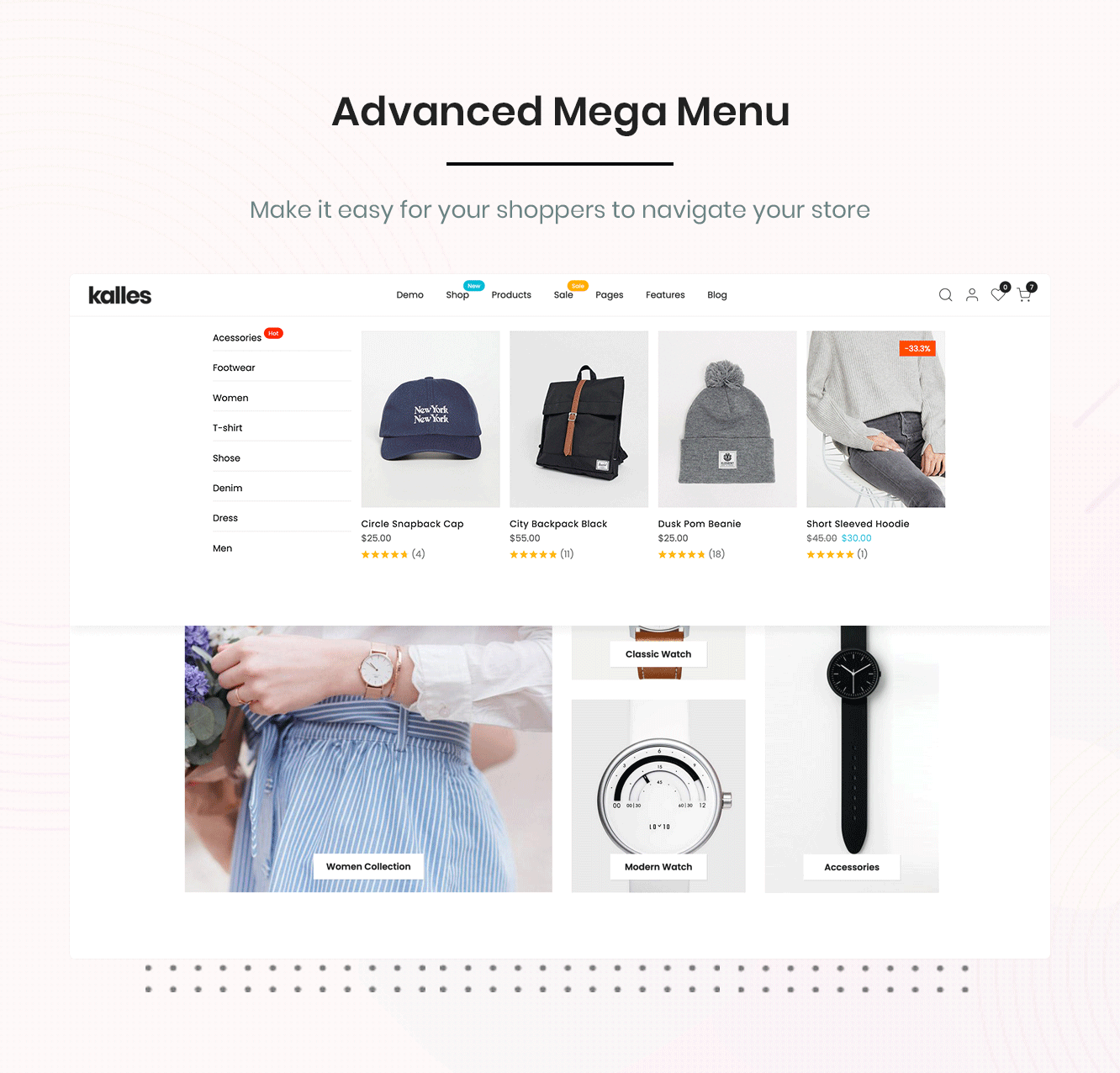 Replace that boring and simple menu with a "Mega Menu", it helps your store look more professional and shows much more information than a basic menu.
Mobile Bottom Navigation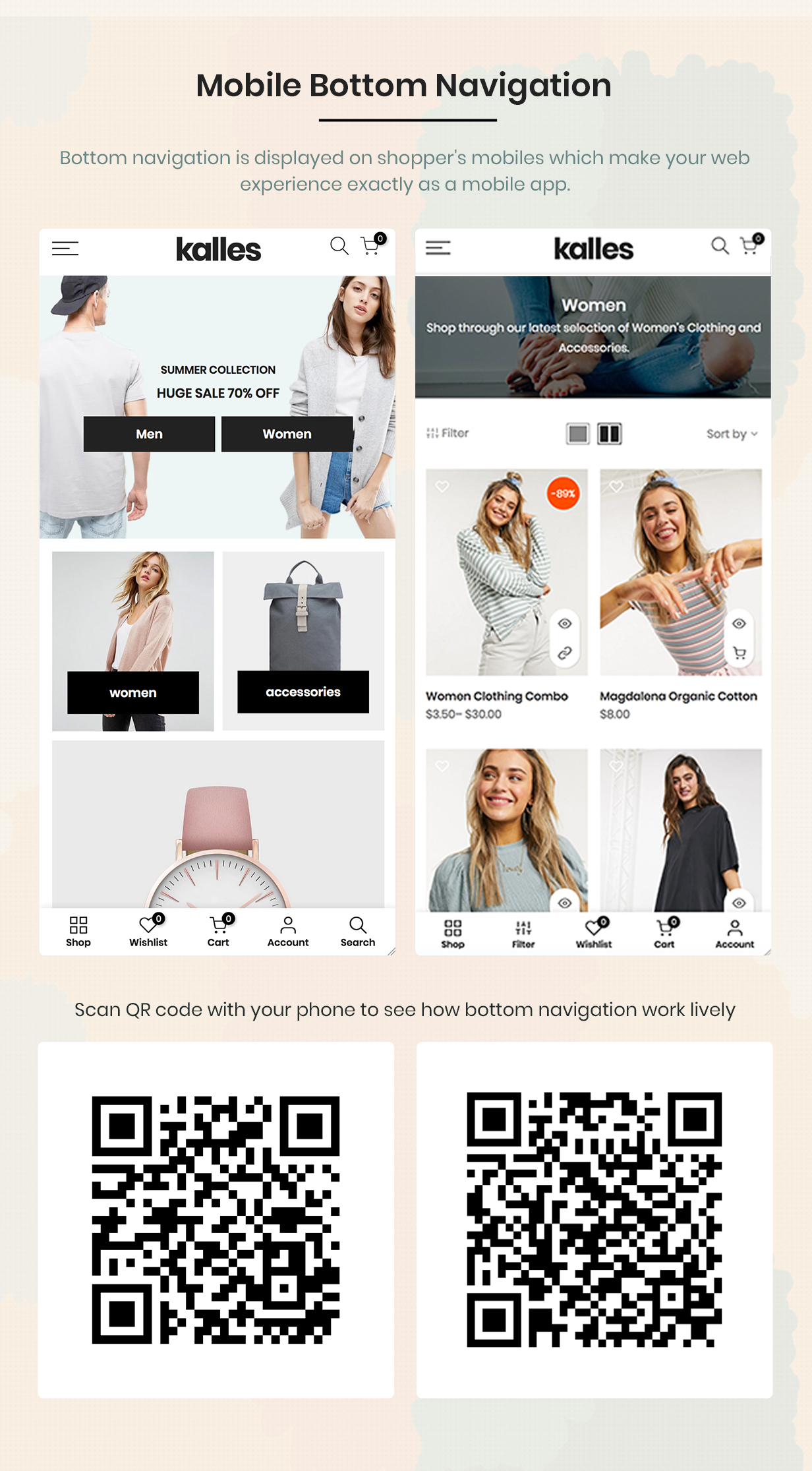 This feature helps optimize the UI/UX in mobile, your store looks like a mobile application and it is also very smooth. With Kalles, everything is taken care of pixel by pixel.
Optimized Search Layout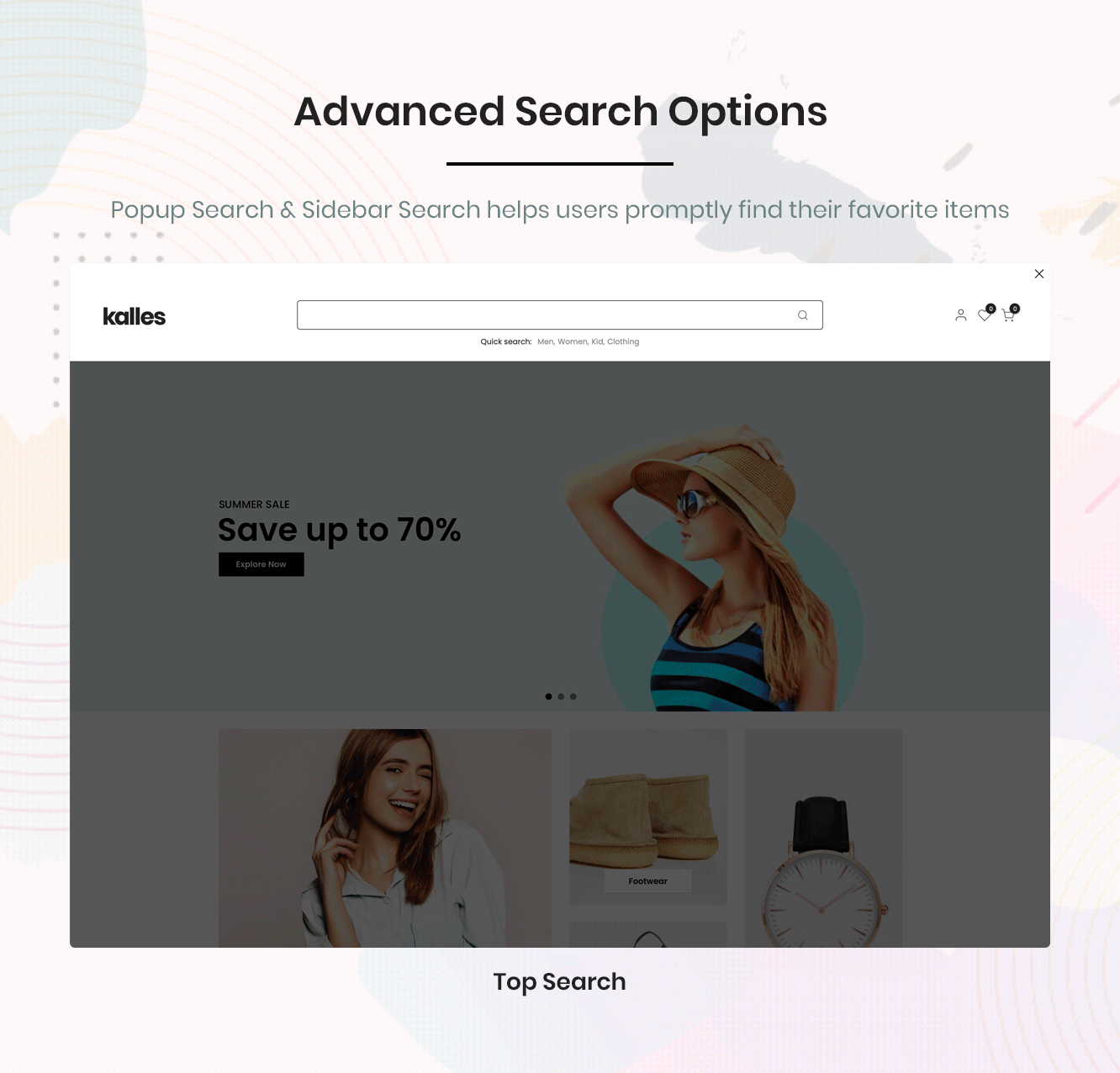 The search function is improved and more convenient for users. We have spent a huge amount of time researching customer behavior and optimizing the UI / UX for the search function on Kalles.
Showstopping Lookbook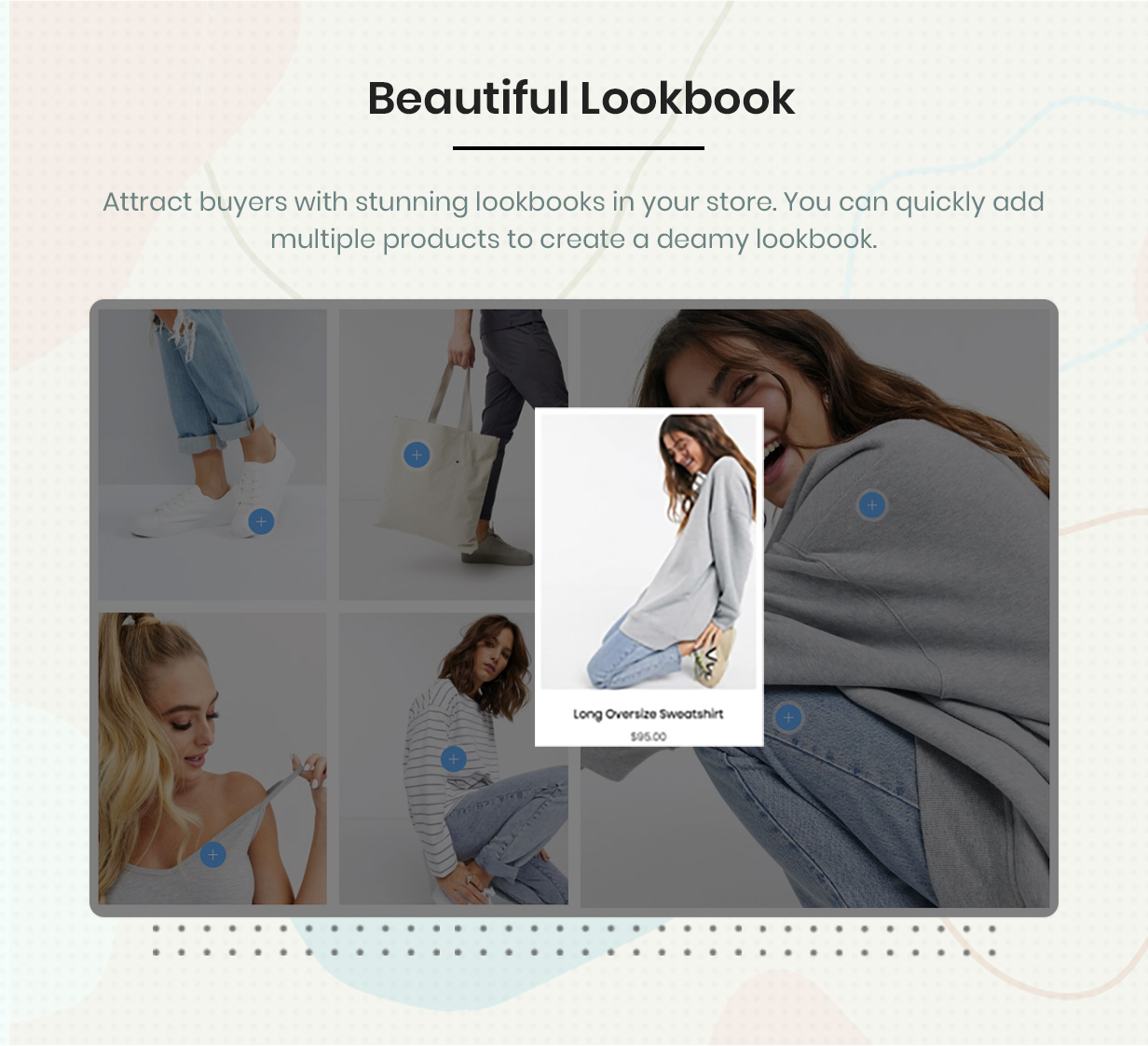 Showcase your fashion or announce new lines and collections in the most eye-catching way with kalles's Lookbook. The stunning Lookbook allows you to include information on items as well as spotlight sales points for your brand's best outfits.
A powerful built-in theme options panel
Kalles built-in theme options panel includes drag-and-drop functionality which makes it even easier for you to customize your store and access additional features and functions such as Mailchimp and Instagram Shop. You'll be able to make all the adjustments and updates you like without touching a single line of code.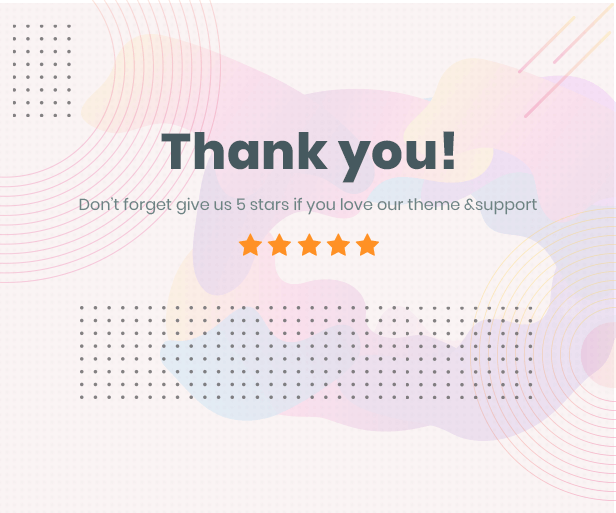 Compatible with LayoutHub

LayoutHub is an easy page builder that helps merchants quickly set up an online store with any kind of page type by using our library of pre-designed layouts and blocks. With LayoutHub you can create a landing page, home page, product page, sales page, collection page, about-us page, contact-us page, blog list page, blog detail page, FAQ page, 404 page, password page and coming soon page.
Compatible with Growave app
Growave is the all-in-one marketing platform that helps Shopify brands reach their audience, engage users and increase conversions with ease.
Highly recommend FREE SEO Suite app

Finally, thank you for taking the time to read all about Kalles. We always strive to create only the best products for our customers. We The4, concentrate on selling only a few excellent products and our reviews and sales speak for themselves. Check out our other themes like Basel, Gecko, Elessi, Molla, Hooli, Boutique, all built with love and passion while always listening to what our customers want… Kalles is no exception to our perfection. We treat our customers as part of The4's family and we truly want to help you succeed with your Shopify store. Remember, your success is our success. All The4 products are updated regularly and continuously … you'll never have to worry about anything when buying products from The4.
Thank you and kind regards from us at The4.
Theme feature
Kalles's countless features include:
Sections in Product Pages
Compatible with RYVIU
Compatible with DelightChat
Multi-Purpose Design
Ajax Mailchimp, Klavyio
Calculate Free Shipping Thresholds
Ajax tab
Google 's rich product snippets
Cookies laws info
Add to cart sticky
Stock Countdown
Easy to Import Demo Config
Auto currency
Product Grouped
Unlimited variant image
20+ available home page layouts
Multiple Page Styles
Social Sharing Features
Responsive Design
Unlimited Colors & Layouts
Unique Homepage Layouts: More Amazing Concepts Are Coming Soon!
Fully Responsive (Tested on Multiple Devices)
Modern & Clean Design
HTML5 and CSS3 Tableless Design
Ajax Product Filter Support
Wishlist Support
Compare Support
Quick View Support
Zoom Magnifier Support
Currency Switcher Support
Mega Menu
Sticky Menu
Powerful Theme Options
Validate HTML5 Code
Unlimited Different Headers & Footers
Elegant Animations
500+ Google Fonts with Preview Capability
Flat Design Style
Grid Or List View
Nice Rollover Effect For Products View
Images With jQuery Inner Zoom
Ajax: Add To Cart, Wishlist and Compare
Clean Block Cart Module
And much more
Creadit
Image Sources