JustLanded – WordPress Landing Page
0.0/5 (0 Feedback)

0 in Queue
Description
JustLanded – WordPress Landing Page
.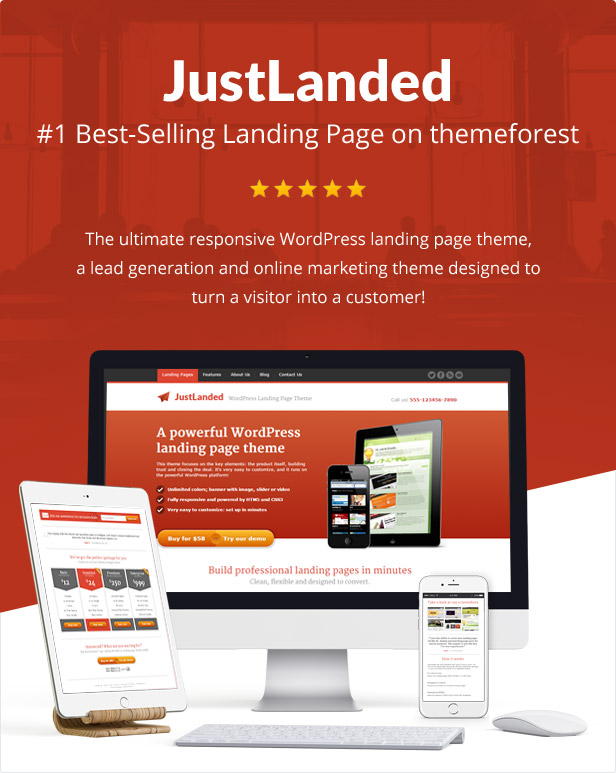 JustLanded the powerful responsive WordPress landing page theme that simply works.
JustLanded for WordPress is the ultimate responsive WordPress landing page theme.
We took our successful JustLanded landing page template, turned everything complicated into something tangible and simple and added some WordPress magic. With JustLanded for WordPress your options for building landing pages with WordPress are endless, and you get a whole matching WordPress theme! Simply create and let JustLanded for WordPress do the rest.

JustLanded for WordPress has the following features:
LANDING PAGE
Create Multiple Landing Pages
Multiple Landing Pages – e.g. give every product a landing page or sales page, create different versions of your landing page or sales page for conversion testing
Each landing page can have its own design, layout, menus etc.
All the building blocks to create a stunning WordPress landing page
Social Media Icons – Facebook, Twitter, Pinterest, Dribbble, YouTube and more
Feature List – powerful feature lists with unlimited items
Screenshot Gallery with Lightbox – unlimited screenshots
Testimonials – featured testimonial and unlimited 'small testimonial' blocks w/avatars, as well as testimonial slider and testimonial slider sidebar widget
Pricing Table – unlimited packages/items
Payment Icons – payment icons for major payment processing providers
Call To Action Buttons – beautiful matching CTA buttons, integrated in banner and payment options section, unlimited, user-defined colors
Modal Windows – Connect the banner's call to action buttons to modal windows to display additional information or CF7 forms without a need for your visitors to leave the page.
Fully Customizable Banner:
As your landing page's banner is the most prominent feature and the first thing a customers sees, we want you to be able to make the most of it. With JustLanded for WordPress you can make your banner do just about anything…
And if that's not enough you can freely define the banner's contents, using custom HTML and shortcodes, even layout blocks. You can also turn a WordPress page into a banner for your landing page!
Mailing List Integration: Promote Your List Everywhere
Newsletter Sign-Up Form (integrates with AWeber, MailChimp and other third party services)
Featured Sign-Up Form in Banner (gets all the attention, converts best)
Sign-Up Form Widget (use it on your blog and pages)
Supports Popular Contact Form 7 Plug-In (fully-styled, works out of the box, on landing pages and content pages)
Custom Forms in your Landing Page Banner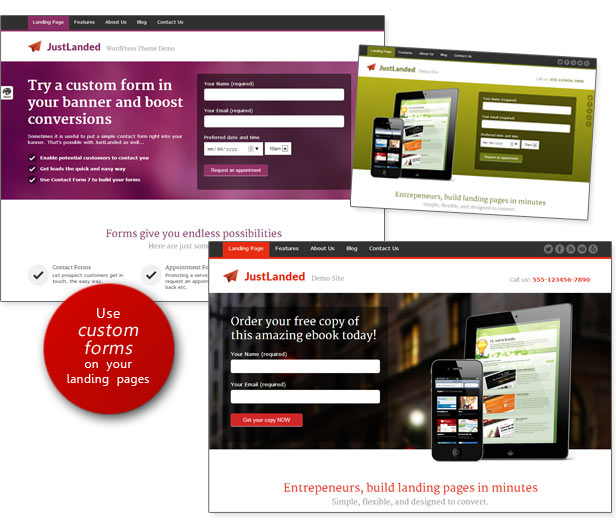 With support for the brilliant (and absolutely free) Contact Form 7 plug-in we make adding forms to the landing page banner a breeze. Whether you need a contact form, a sign-up form or an appointment form (or any other form really), JustLanded for WordPress has you covered.
GENERAL FEATURES
Fully Customizable — Easily Change the Look and Feel!
Use one of 30 presets or design your own, with color gradients, backgrounds and textures to modify the WordPress landing page templates or blog templates.
Unlimited Color Options, including beautiful presets to get you started right away
840+ Google Webfonts, all styles and subsets supported
A strong base for your next WordPress theme
Fully Responsive WordPress Theme, looks great on your smartphone or tablet!
HTML5, CSS3 for compatibility with all modern browsers
Works with WordPress 3.7.x+ (up to the most recent version 4.8)
Optimized for SEO (fully indexable content, content-first strategy, meaningful link structure)
CSS sprites for front-end content to reduce page loading times
Based on responsive grid inspired by the Foundation framework
Comes with layered PSD files for landing page and blog designs
Export and import of settings (back up your settings and copy settings to another installation)
Add a unique touch to your design
Layout Blocks (easily create fancy column layouts based on our grid)
Custom List Styles (easy to use with in-editor buttons for quick access)
Easily accessible through simple shortcodes and in-editor quick access buttons
Full WordPress Theme: All Features of a regular WordPress theme
JustLanded is not just a simple WordPress landing page theme—it's a complete and fully responsive WordPress theme with multiple widgetized areas and full blog support, including nested comments.
Does not cripple your WordPress setup: All popular WordPress features are supported
Beautiful nested comments
Custom Templates (sidebar left, sidebar right, full width, landing page, page with 'page banner')
Drop Down Menus (up to 3 levels) using WordPress Menus; optional Sticky Menu
Tags and Categories
Extensive Documentation (we documented just about everything in a well-structured and fully illustrated user manual and tutorials that ship with the theme)
Includes Demo Content and Settings (get started right away)
Ready for the future
JustLanded for WordPress is compatible with WordPress up to 4.9.
Free Plug-In: WooCommerce Integration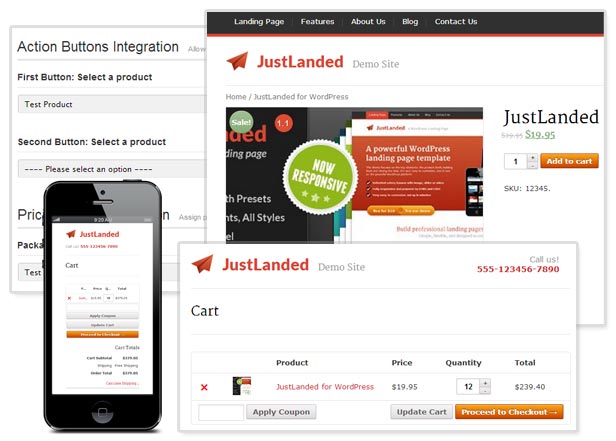 By popular demand: a free plug-in for JustLanded for WordPress to integrate JustLanded with WooCommerce. Turn your website into a digital marketplace, sell digital downloads or physical products – with WooCommerce, one of the most popular shopping cart plug-ins with payment gateway integration available for the WordPress platform.
Free Lifetime Updates – Pay once, get free updates
Customers get access to free updates as soon as they are released. No costly update or support subscriptions—you pay only once and get free updates for the support lifetime of the product, even if the price increases.
This is a Deprecated Product that has reached its End of Life – Sold As-Is, No Customer Support, No Refunds
JustLanded was first published in 2012 as our very first WordPress theme. The theme was deprecated in the fall of 2018, is no longer in development and we will no longer add new features. Active support has been discontinued. There is no access to customer support with this purchase. Existing customers, however, still enjoy 6 months of support included with their purchase, support extensions are no longer being offered, though.
Learn more about technical support on the themeforest marketplace in the item support policy.
Not completely satisfied? Feature missing? Anything you need help with?
If, for whatever reason, you are not completely satisfied with JustLanded for WordPress, and feel that it does not deserve a 5 star rating from you, please contact [email protected] and we will make every attempt to change that.

Updates for JustLanded for WordPress – WordPress Landing Page
(Excerpt of the change log)
==> Version 1.7.0 (2018-04-29) 
- PHP 7.1/7.2 compatibility fixes

==> Version 1.6.1 (2015-08-24 (Bug Fixes, WP 4.3, General Compatibility) 
- Fixed: Widgets constructor deprecated in WordPress 4.3; replaced
- Fixed: Label in page editor indicated wrong profile used
- Fixed: WooCommerce 2.4.x compatibility issues
* Changed update check URL to cloud to improve speed

==> Version 1.6.0 (2015-07-15 (Bug Fixes, WP 4.3, General Compatibility) 
- Fixed: Trackback always displayed, even if hidden in options
- Fixed: Pricing table not always aligned as designed
- Fixed: WooCommerce integration plug-in add-to-cart links were broken in WC 2.3.13

==> Version 1.5.6 (2015-02-28 (Bug Fixes, Added Features) 
+ Added Instagram social icon
+ Added option to hide comments meta info in post header
- Fixed: comments form alignment issues in WordPress 4.1.1
- Fixed: search widget was not translatable (new .PO/.MO files)

==> Version 1.5.3 - 2015-01-20 (Bug Fixes) 
- Fixed: addressed rare shortcode parsing bug affecting WordPress 4.1 users

==> Version 1.5.2 - 2015-01-05 (Bug Fixes) 
- fixed minor bug to address compatibility issues with plug-ins using a lightbox similar to the built-in gallery

==> Version 1.5.1 - 2014-12-23 (Bug Fixes, Minor Improvements) 
- Fixed: some settings were not being saved into the database 
- Fixed: setting to hide some meta information was being ignored 
* Updated WooCommerce integration plug-in to version 1.3.1 
* Updated Dynamite plug-in to version 1.1.1

==> Version 1.5.0 - 2014-11-29 (Minor Update)
Feature Additions/Enhancements:
(JustLanded for WordPress)
+ Added option to define amount of widgets in footer area/widgets row
+ Added option to randomize testimonials in slider
+ Added options for testimonial slider transitions, effects etc.
+ Added backend option to payment options block to add custom text below button
+ Shortcodes are parsed in action button link URLs
+ Added identifying CSS classes for call to action buttons
+ Added automatic compression of dynamic CSS
* Updated Google Web Fonts base data
* Updated user manual

(Dynamite plug-in)
+ Added option to Dynamite to switch profile

(WooCommerce integration plug-in)
+ Added option to define default profile for WC pages
+ Added simple cart menu item
* Performance improvements

Bugfixes:
- Fixed archive sidebar issue w/titles outside container
- Fixed button options in banners they should not affect
- Fixed issue in gallery block to prevent links from opening in lightbox
- Fixed font size selector in localized versions of WordPress
- Fixed shortcode generator; added wrong parameters for lists
- Fixed list styling for Page Content blocks
- Fixed margins for images with .alignnone in Page Content Blocks
- Fixed incorrect descriptions in theme options panel
- Fixed YouTube embedding issues when using URL shortener
- Fixed clearing issue in List of Features block

==> Version 1.4.0 - 2014-08-19 (Maintenance Update)
+ added option to display banner on all pages
+ added option to select separate profile for blog pages
+ added link target option to pricing table block
+ added options to select separate menus for logged in users (for membership sites)
+ added option to set site title and tagline per profile
+ added option to define number of widget columns for widgets row & footer widgets
+ added option to select long/short format for blog content landing page block
+ added option to hide comments form from pages
- fixed rounding issue when manually entering hex color value
- fixed minor usability issue on mobile devices
* modified contextual help messages
* updated user manual and quick start guide
* some modifications for WordPress 4.0 compatibility