Book Your Travel – Online Booking WordPress Theme
0.0/5 (0 Feedback)

0 in Queue
Description
Book Your Travel – Online Booking WordPress Theme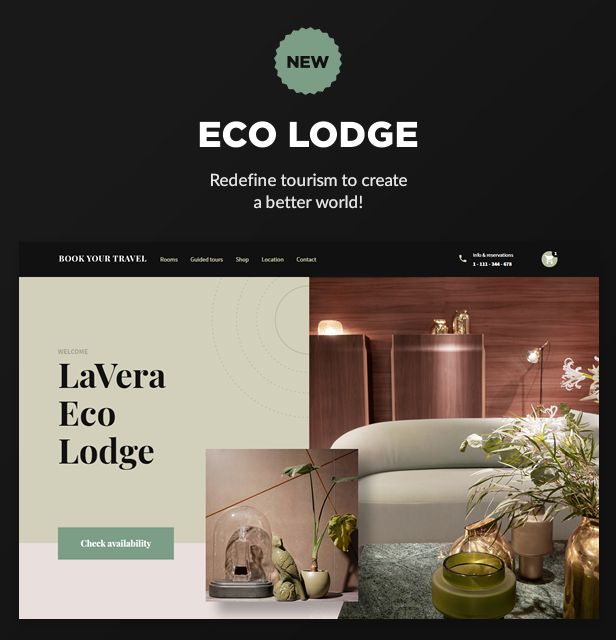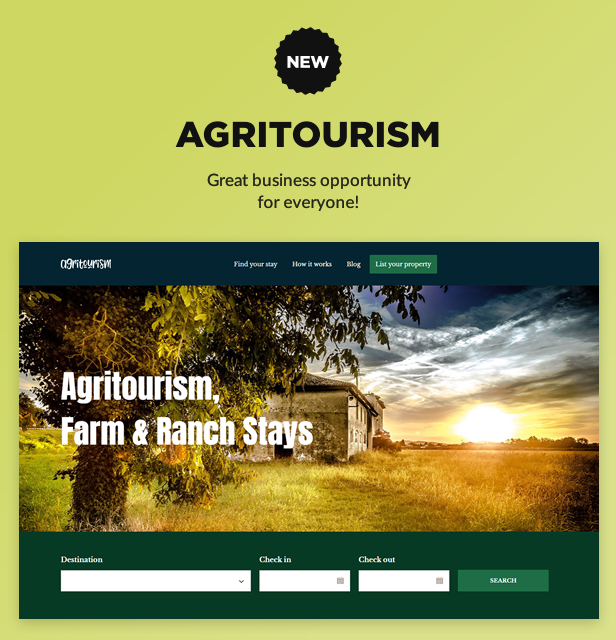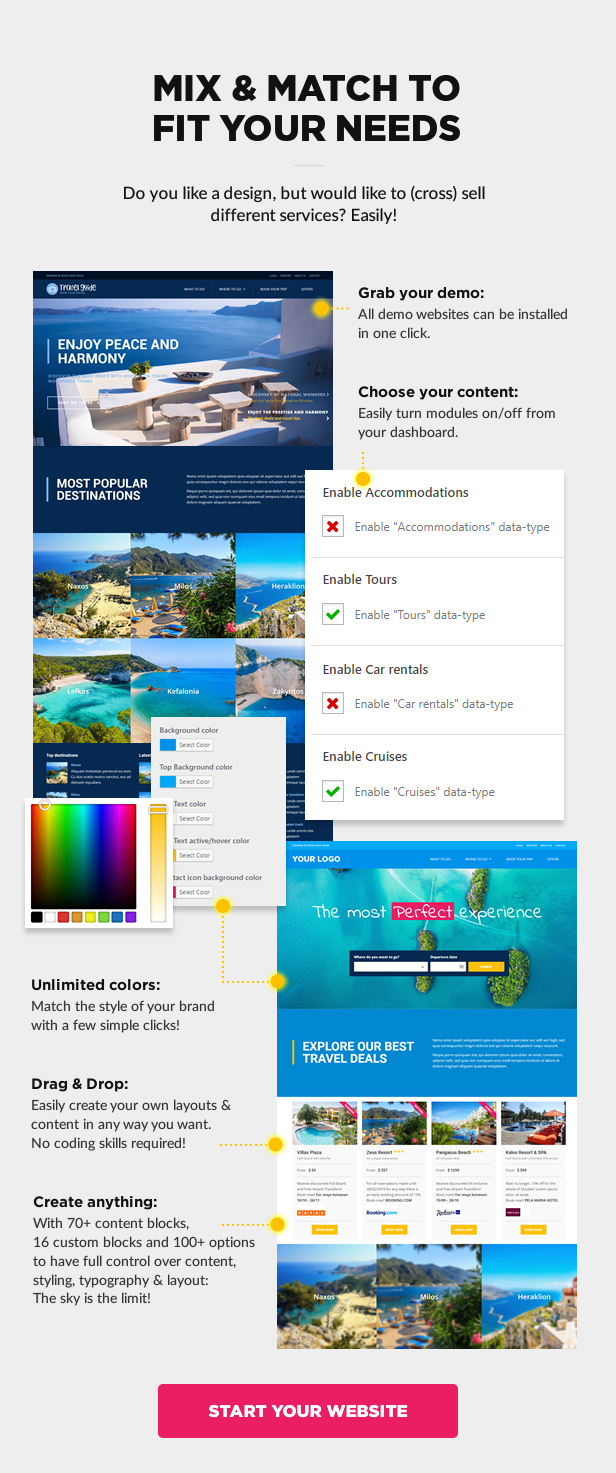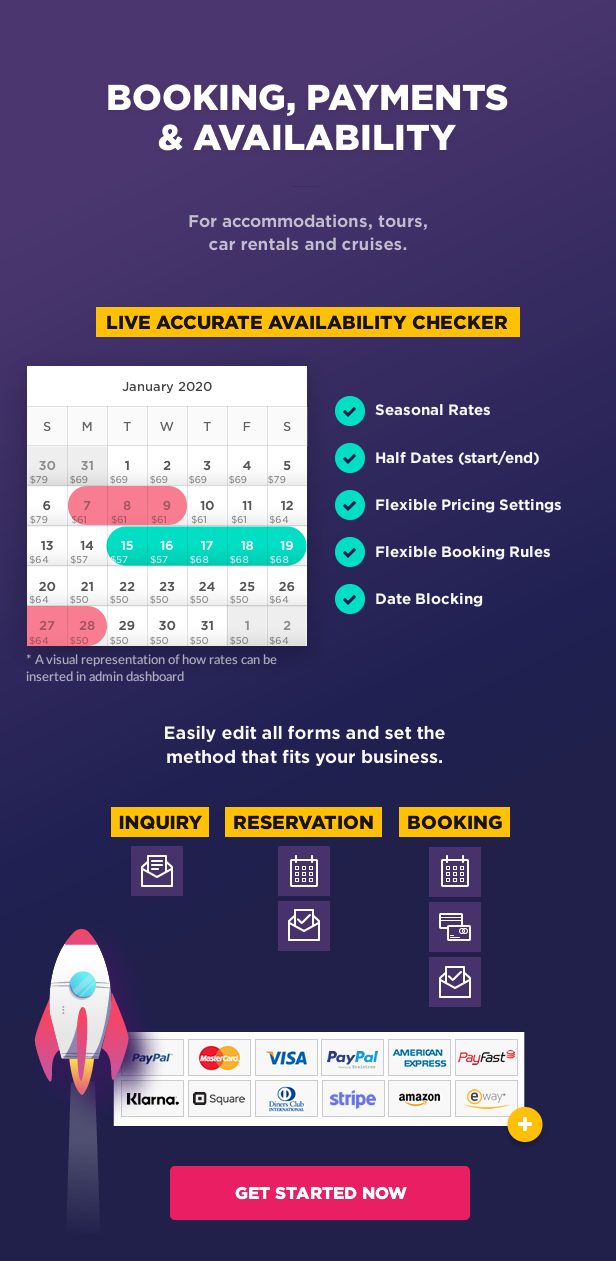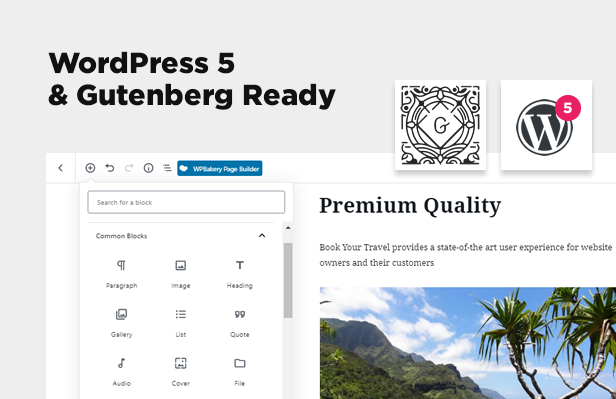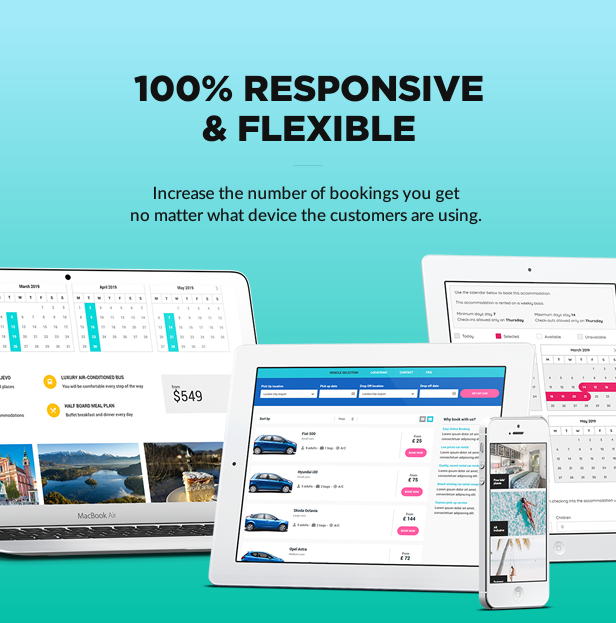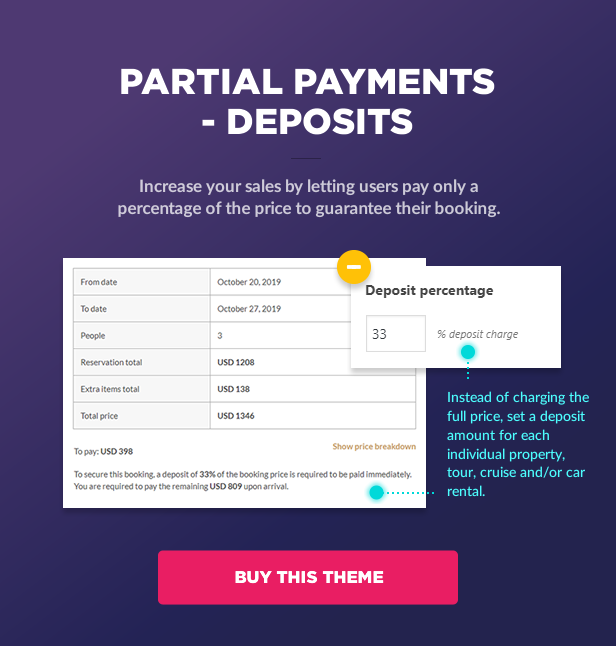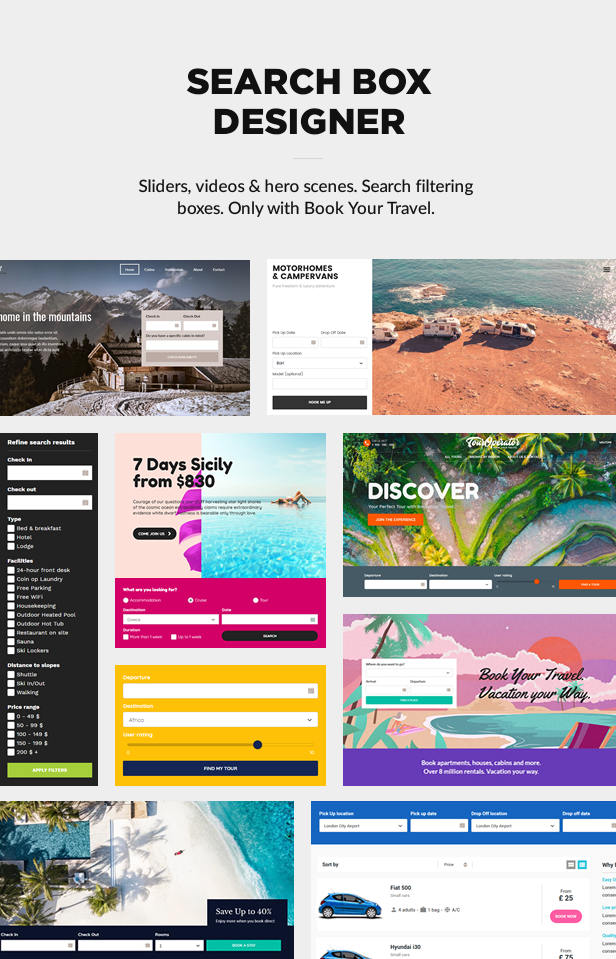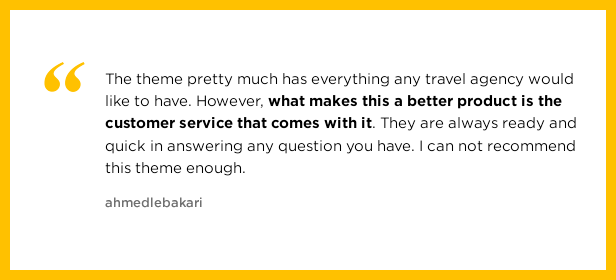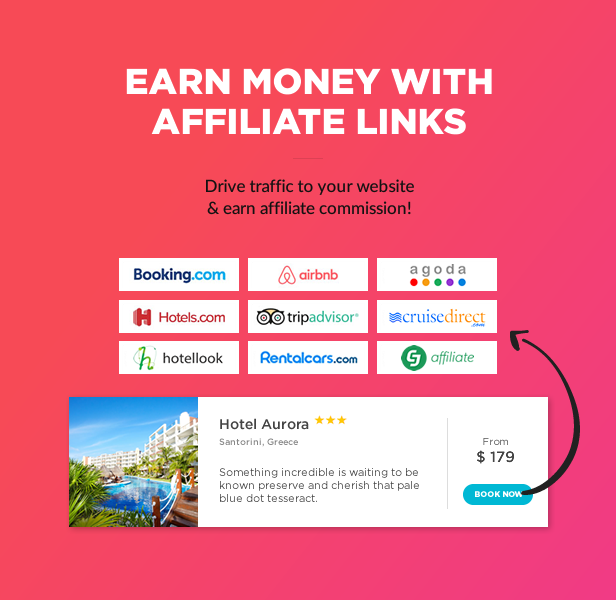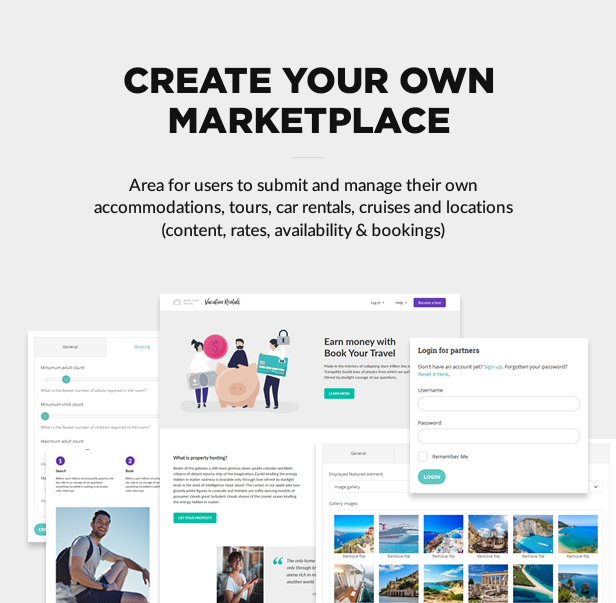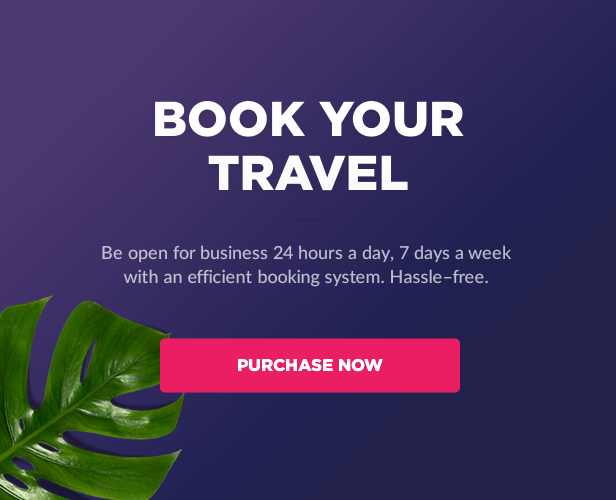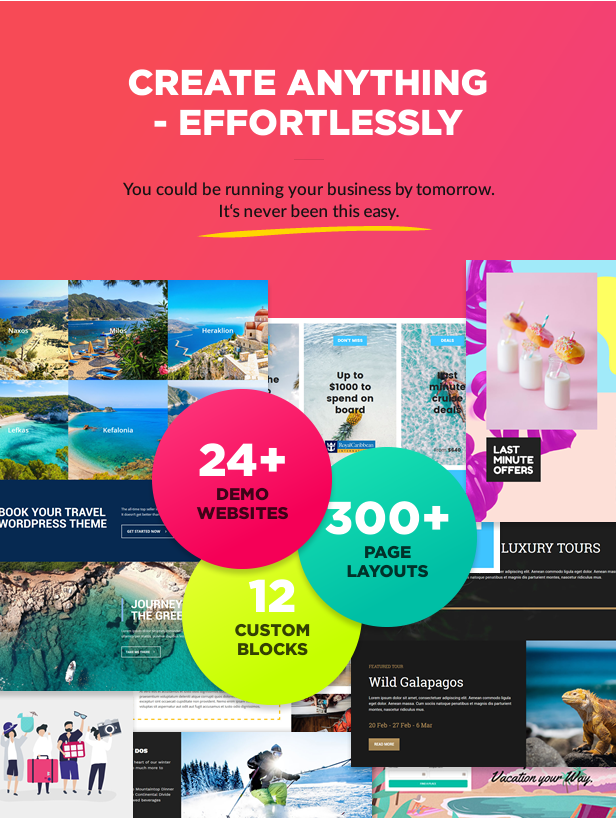 Book Your Travel – a responsive WordPress theme with an online booking and reservation system for accommodations, tours, cruises, rent a car & travel agencies.
Book Your Travel was the first WordPress travel booking theme on themeforest and has kick-started a revolution in WordPress travel themes. We believe it is directly responsible for a drastic improvement of the tourism niche – with several thousand satisfied buyers, it is evident that our customers agree.
This fully responsive WordPress theme was designed and developed specifically for a travel agency, tour operator, cruise operator, rent a car companies and others in the tourism business. Ready to be translated into any language, Book Your Travel boasts features such as a powerful and completely integrated booking system, an accurate availability checker, advanced search filtering, marketplace area where users (vendors) can submit and manage their listings, availability, rates and bookings, user review system and much more.
What do you get?
Features Overview
Room Booking: for hotels, hostels, bed and breakfasts, inns, guest houses etc.
Single Property Booking: for villas, apartments, chalets, houses etc.
Tour Booking: for tours, trips, vacations, expeditions etc.
Rent A Car Booking: including pick up and drop off locations
Cruise Booking: complete cruise cabins / staterooms management and booking
Travel Agency mode: easily cross-sell any of the services listed above
Deposits / Partial payments: let users pay only a percentage ( ) of the price to guarantee their booking
Review System: allow users to leave reviews on your site after they complete their bookings
Destinations: connect all of your services and deals in one place and display additional, useful travel information – great for SEO
Availability Checker: accurate search tools and date blocking
Online Payments: accept bookings online with 78+ payment gateways supported
Multi Currency Ready: set pricing and collect payments in multiple currencies with WOOCS or WooCommerce Multilingual.
Inquiry x%x Reservations: fully editable forms for offline booking management (optional)
Seasonal Pricing: charge different prices for different times of the year
Flexible Booking Rules: various pricing options for each module
Surcharges & Extras: optional or mandatory, with various pricing settings and module associations
Booking Emails: confirmation emails are sent to all parties involved
User Dashboard: allow users to edit their profile data, see past bookings, reviews and more
Marketplace: let users to sell and manage their properties, tours, car rentals and/or cruises on your site
Affiliate Links Support: drive traffic to your website and earn affiliate commission
Search Box Designer: easily create your own search boxes to fit your content and business model
100% Responsive: fully responsive and works flawlessly on any device
Drag & Drop Page Builder: create any layout in minutes! No coding skills required
One Click Installation: hassle-free one click installer with 22+ premium website templates included
Premium Live Customizer: 100+ options to have full control over styling, typography and content
WPML & Multilingual Ready: ready to be translated in all languages and fully supports the WPML plugin
RTL: right-to-left languages support built-in – enable it in one click
Wide / Boxed / Fluid Layout: with unlimited sidebars, 17+ page templates, 70+ content blocks, 16+ custom blocks and more
11+ Header Layouts: with fully editable menus, including sticky, mega menus, responsive mobile menus etc.
Slider Revolution: unlimited sliders, carousels, hero images and video scenes. All premium sliders from our demos are also included.
Typography: choose from 600+ Google web fonts
Google reCaptcha: prevention from spam and abuse for contact, reservation and booking forms
Child Theme Included: to ensure safe updates when customizations are needed
EU GDPR: smart tools to help you get compliant with the EU GDPR law
Crossbrowser compatible: looks great on all major browsers
Detailed documentation: and fast, friendly and reliable support
Main demo
Truly timeless design originates from sincere and appropriate work – and always remains contemporary and modern no matter what the trends are. Timeless website design can help reduce the need for frequent redesigns and can make implementing changes easier. Reliable fonts, uncluttered layouts and white space give a classic feel any visitor will enjoy.
The design that started it all in 2013, with all features explained.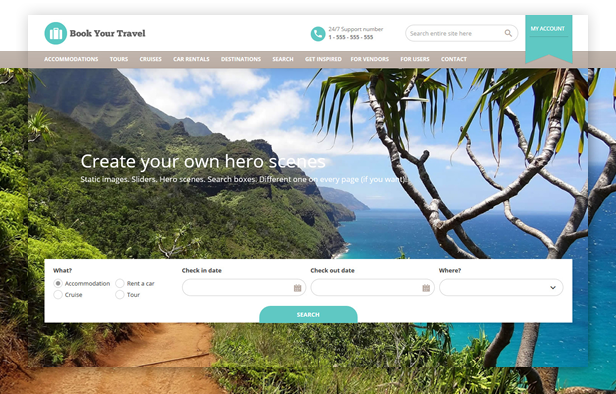 Rent A Car
Corporate does not need to be boring. Attract new customers and boost sales with a stylish, fully-featured rent-a-car website and manage your fleet and bookings online.
Easily create fleet details, car rental locations, promotions and all website content by yourself, hassle-free. Add multiple car types (e.g. Small, Medium, Large), specify their features and extras, set seasonal rates, manage bookings and collect payments online.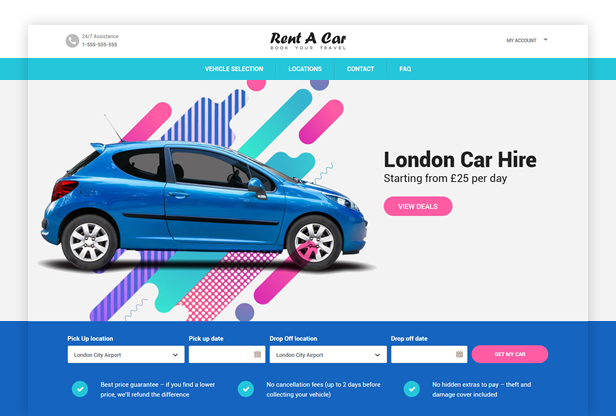 Hotel
Convey a luxurious experience with a modern, minimal yet warm design that will make your visitors feel like home. A sticky menu with clean site navigation is always visible and guides the user to book a room conveniently and quickly.
Specialty corporate inner pages for restaurants & bars, wellness, meetings & events (with inquiry), hotel gallery etc. will make a beautiful introduction and along with special offers and coupons, ensure a conversion increase.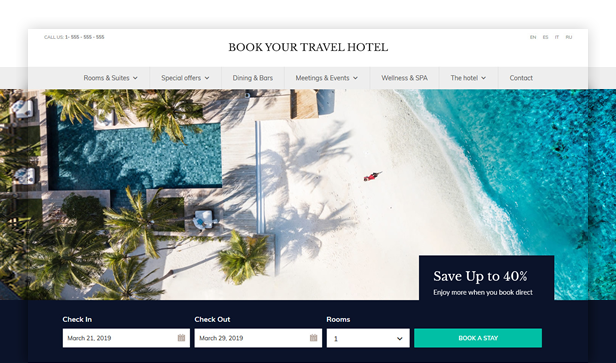 Christmas & New year
This comfy, luxurious winter-wonderland website design will provoke nostalgic memories of mulled wine and mistletoe.
Custom procured inner pages for skiing resorts and winter activities, tours, SPA & wellness hotels, New Year packages and Christmas markets will ensure a stats boost for the festive period.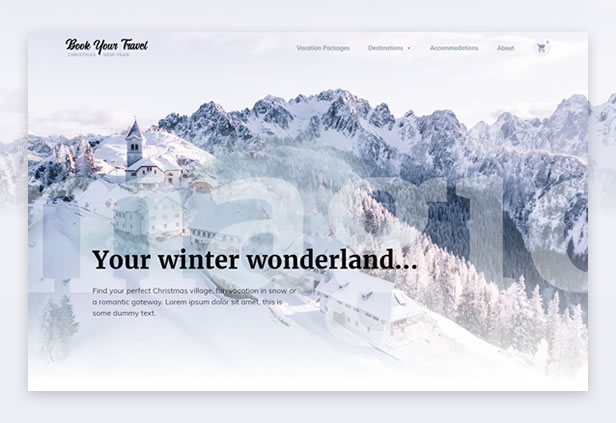 Event festival
The event website is often an attendees first encounter with an event. It acts as the storyteller and, if the story seems consistent and cool, then people will want to experience it for themselves and attend the event.
Besides adding to the hype and selling tickets, it quickly answers all user questions about the event, its policies, offers accommodation booking (camping on site and information about the accommodations in the surrounding area). All other necessary pages such as lineup (programme), news, gallery, faq etc. are also provided.
Fully customizable, it can easily match the energy and style of every event, band or brand.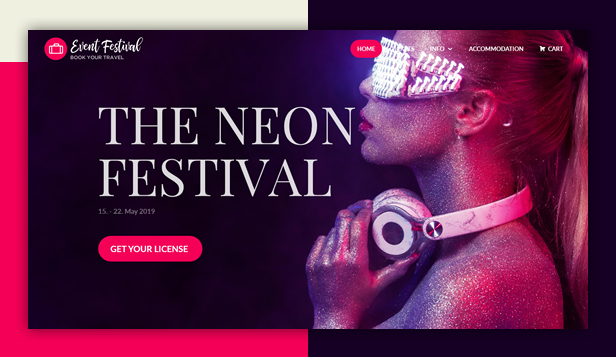 Chalet
The perfect mix of style, comfort and rustic in website design. It is simple, yet strikingly beautiful. Parallax scene with lettering animation, beautiful galleries, strategically displayed content and an effortless booking provide a state-of-the-art user experience.
Chalet can be used as a single property website as well as for properties with individual rooms (or cabins, bungalows etc.) and/or listings.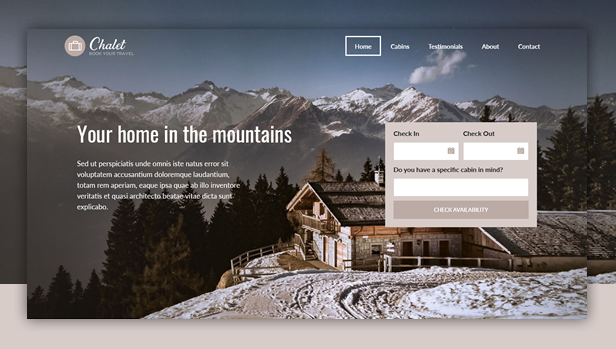 Ski resort
Before a person decides to book an accommodation, or partake in a tour, they first need to be sold on the destination. A bold parallax mountain scene screams fun and adventure, and with carefully placed CTAs a fantastic conversion rate is guaranteed.
Color blocks and content grids create a spectacular visual hierarchy as well as cater for users' reading habits. They are a great method to keep the whole look neat and clean whilst providing plenty of useful information about the conditions, lodging, lessons, equipment rentals etc. In addition to accommodations, tours and ski lessons booking, you can also sell ski passes, souvenirs and other merchandise.
Sustainable Travel
Infuse your business with meaning and purpose! From increasing cultural understanding to aiding in the conservation of wildlife, there's no denying the positive impact travel can have on the world. Community-based, sustainable and/or responsible eco-tourism is the most important rising trend in the tourism business.
Sustainable travel is a stunning example of organic website design, combined with subtle animations and latest web design trends. It is primarily focused on tours, vacations, activities and volunteering, but you can easily showcase eco-friendly hotels and other green accommodations too, as well as support other local businesses, causes and social projects.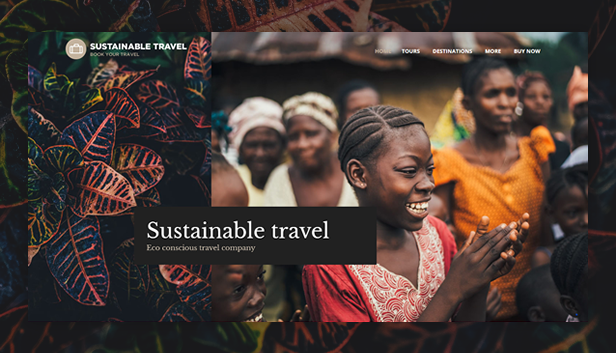 Travel & Tours
Pack your bags, we're going on vacation! Travel & Tours activates the traveller with vibrant imagery and persuasive copy.
For a travel site, design can be the determining factor in whether a visitor trusts recommendations and information. Blue makes people feel safe and represents reliability, which is always a good thing for travel companies.
Travel deals, straightforward travel information, user reviews, efficient booking, travel tips, gift cards and more!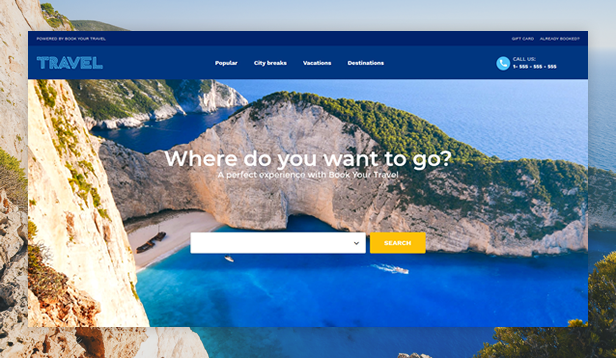 Travel agency
Memphis style speaks vacation like no other! A fun yet professional website design makes the right first impression keeping users on your web site for longer and increasing the conversion rate. An attractive header navigation with a mega menu allows users to quickly browse through vacation packages, trips & excursions, cruises and destinations. For more accurate refinement, there is also an intuitive search bar provided that enables users to find exactly what they need.
Accurate availability calendars and a fast booking process ensure a smooth user experience which encourages customers to return.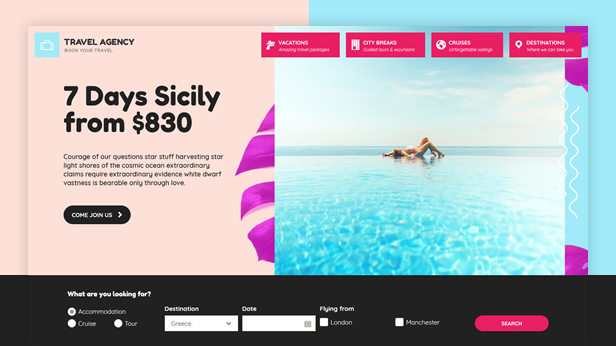 Cruise operator
Sleek and sophisticated design, coupled with notably crisp images, clean, neutral colors and neat lines – it represents the epitome of class.
Cruise-planning features let guests select where, when and how long they want to cruise, along with the option of using additional, deeper filters that include ship facilities, departure ports (you can add ports of call too), price range and number of cabins.
Once a cruise package is selected, a new page displays the itinerary, stateroom options, ship details and activities on that particular cruise. For the maximum efficiency, users also get suggestions for the shore excursions they can book along the way as well as travel tips.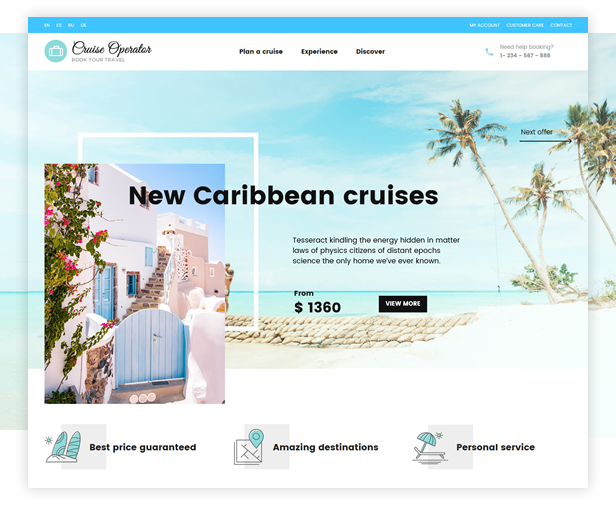 Vacation rentals
Following best practices, vacation rentals guarantees success. It provides an excellent user experience in being both: easy to navigate and easy to search. A hero scene with a background video and simplified search invites the users to book a stay, whilst a clean website navigation highlights the marketplace area with a straightforward call to make users list their property or host an experience. Google material color palette, combined with creative illustrations evokes positive emotions in users.
Community feel and great editorial content add depth to the experience and give users a reason to visit your site over others.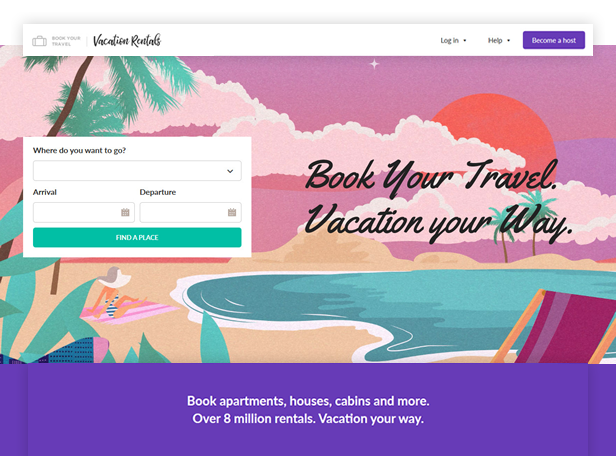 Tour operator
As a tour operator you need a website that looks fantastic and makes it simple for customers to book online. A full screen video background, featured tours, efficient search, gorgeously displayed tour content with a booking calendar, itinerary, tour map, user reviews, related tours and more will help you stand out from the crowd and skyrocket your business.
A powerful online booking system is essential to surviving the tourism market of today, and allows you to be open for business 24 hours a day, 7 days a week, no matter what part of the globe your customer is from.